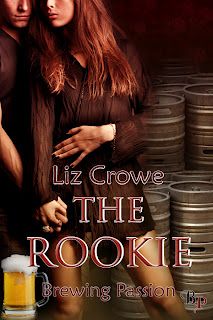 Title:
The Rookie
Author:
Liz Crowe
Series:
Brewing Passion series, #1
Publisher:
Breathless Press
Sub-Genre:
Contemporary Romance
Length:
25 pages
Heat Rating:
Erotic
Rating:
3.5 Cups
Available At:
This is just an example of what is to come from the very talented author, Liz Crowe!
Blurb:
Lisa loves her job in the male-dominated beer sales industry and has built a reputation as one of the best. But she dreads the "ride along" days when beer companies sends their least experienced representatives to see how she operates—until her one bad day turns into something more with The Rookie.
Undercover for his own brewery, Trent has heard of Lisa's prestigious sales prominence and sets out to see for himself—to show Lisa what he is capable of—in business and pleasure. Their attraction leads them to an amazing encounter in the most unlikely place, but will Lisa accept Trent's true identity once it's revealed? Or will she finally surrender and reach out for the unexpected?
Christine's Review:
Lisa is a hard working, take charge, no nonsense career woman. Trent is the rookie who surprises her with his looks and the instant chemistry you can literally see and feel between them. What you have is another Liz Crowe success story. This book is #1 in the Brewing Passions series. Right from the start, you can see the sexual tension between Lisa and Trent. She is understandably angry having Trent with her as his looks and strong work ethic are throwing off her game. Lisa eventually finds out who Trent really is but is willing to move forward to see if there is something else besides the physical chemistry.
This was a short story and quick read. I would have loved to see how these two characters developed. I hope that there is more of them in this series. Another great job Liz – the book and the characters were hot!
--
**Disclaimer: This book has been provided to Coffee Beans & Love Scenes ("CBLS") Reviews free of charge by the author in exchange for an honest review of this title. No money has been exchanged for this review. This review reflects the opinion of the individual reviewer and does not necessarily reflect the opinion of any other CBLS reviewer or this blog's owner, editor or administrator.