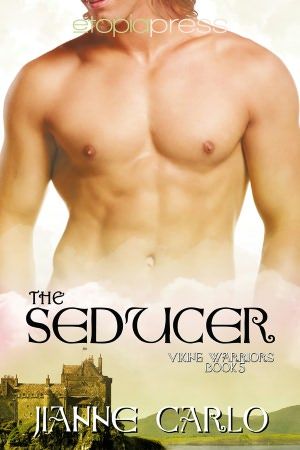 Title:
The Seducer
Author:
Jianne Carlo
Publisher:
Etopia Press
Sub-Genre:
Historical Romance
Length:
87 pages
Heat Rating:
Erotic
Rating:
5 Cups
Available at:
Amazon
|
B&N
|
ARe
Blurb:
How can she trust her heart to a man known as the Seducer?
Elaina's step-uncle, Eógan, has murdered her father and usurped his crown. Desperate to save herself and her younger sisters, Elaina, the concubine's daughter, takes the girls and vanishes from the world. But when she's discovered by the tall, brash Viking known as the Seducer, he's determined to make the unwilling woman his own. Even if it involves blackmail: Elaina's hand for his silence.
Angry at being discovered and desperate to protect her sisters, Elaina agrees to marry Jarvik after he threatens to reveal her identity. She bids him to make haste and slake his lust, but Jarvik will accept naught but Elaina's full passion. Their joining is explosive and magical, but how can Elaina trust a man called the Seducer? And even if he proves as good as his word, will the political maneuvering of rival kings force Jarvik to relinquish his new wife to the very man who wants her dead?
Emma's Review:
Jarvik is the last brother to find his mate in Jianne Carlo's Viking Warriors series. Known as The Seducer, Jarvik is a strong and sensual man. Elaina is his match in every way. Her sexuality is well hidden but clearly there. I loved the plot for this story. It has all scorching sex that we have come to expect from this series as well as a creative and intriguing storyline. We are reunited with all the brothers and their families. The loyalty and love amongst them is so appealing. It's also wonderful to experience the smouldering chemistry that still exists between the men and their wives even after the passage of time.The story wouldn't be complete without intrigue, schemes and a near death experience. Humor and true affection tie this family together and I can't remember the last time so enjoyed the final book in a series. The kids are great fun and it is a very poignant moment when the women stand to together to make a powerful statement to Elaina. This is one passionate and exciting series and I highly recommend starting at the beginning and experiencing the entire saga. If you love those Vikings, don't miss these fantastic stories.
--
**Disclaimer: This book has been provided to Coffee Beans & Love Scenes ("CBLS") Reviews free of charge by the author in exchange for an honest review of this title. No money has been exchanged for this review. This review reflects the opinion of the individual reviewer and does not necessarily reflect the opinion of any other CBLS reviewer or this blog's owner, editor or administrator.