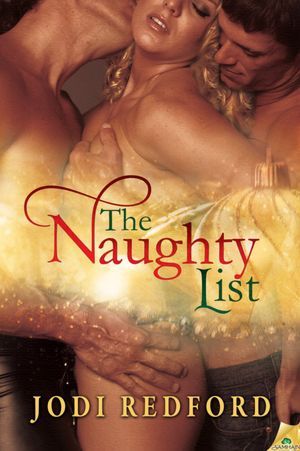 Title:
The Naughty List
Author:
Jodi Redford
Publisher:
Samhain Publishing
Sub-Genre:
Contemporary Romance
Length:
143 pages
Heat Rating:
Erotic
Rating:
3.5 Cups
Available at:
Amazon
|
B&N
|
Samhain Publishing
|
ARe
Blurb:
Makin' a list, and rocking it…twice.
Perpetual good girl Lacey McGuire has two Christmas wish lists. One suitable for public consumption…and a private one that's too hot to handle. Right at the top: wild, wicked fantasies about her best buddies and business partners Ryan Hollister and Bram Colton.
Besides the fact they're both poster boys for Hunks 'R' Us, they've been there for her through thick, thin and the heartbreak of a cheating fiancé. So what if her boys will never know they star in her sexiest daydreams? In her fantasy world, her heart will never get trampled again.
Ry and Bram are pretty sure Lacey never meant to email a list of some of her raunchiest wants. Particularly the one that tightens their shorts—she wants a threesome. With them. Although they've loved her for years, they made a pact to keep Lacey off limits in order to protect their friendship. Now all bets are off. And the quest to give her all she wants—and more—is on.
Warning: This book contains a wickedly hot M/F/M ménage that will heat up the holidays. Friends steaming things up in a hot tub. Bondage and blindfolds. Sexy shenanigans at a Christmas tree lot. And maybe even a glimpse of Santa…in a Speedo.
Denise's Review:
Bram, Ryan and Lacey, three friends who have been close since high school and now run a restaurant together. The author does a good job laying out how Bram and Ry both desire Lacey but agreed they will not act on their feelings. The men are protective of her and even confront her prior fiancée for betraying her. The author does a wonderful laying out Lacey's fantasies about both the men in her life and highlighting why she be unable to make a choice between the two. It was engaging to see how well each character understood each other, the years of friendship played out in their interactions with each other. After a confrontation with former lover of Bram's and some wine......Lacey questions herself and her life. I loved how the authored used an email error ( haven't we all sent the wrong email to someone) as a reason for the men to accidentally get a copy of Lacey's in a naughty list of sexual desires and fantasies When the men guys realize how she feels about them they set out to make her list reality. Ry and Bram work around to show her how they truly feel. The did not give this book 5 stars because I would have preferred a bit more at the end of the story This was a quick and entertaining with hot M/F/M sex.
--
**Disclaimer: This book has been provided to Coffee Beans & Love Scenes ("CBLS") Reviews free of charge by the author in exchange for an honest review of this title. No money has been exchanged for this review. This review reflects the opinion of the individual reviewer and does not necessarily reflect the opinion of any other CBLS reviewer or this blog's owner, editor or administrator.