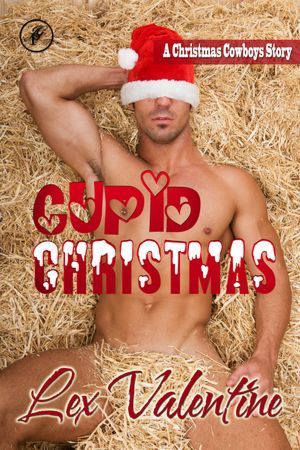 Title:
Cupid Christmas
Author:
Lex Valentine
Publisher:
Ellora's Cave
Sub-Genre:
Pink Petal Books
Length:
42 pages
Heat Rating:
Erotic
Rating:
4.5 Cups
Available at:
Amazon
|
B&N
|
Pink Petal Books
|
ARe
Blurb:
It's another Christmas at Forbes Ranch and this year the family is playing Cupid with Grayson and Jared's best friend Steve Yarrow. Years before, Steve's heart was broken by the love of his life Dalton Emory who left him to further his career by marrying a woman with a rich daddy. Now, divorced, outed and publicly humiliated, Dalton is trying to build a business and keep a low profile. He doesn't believe he deserves a second chance with Steve after the way he hurt him. However, Dalton didn't reckon with his former lover's interfering friends, the depth of Steve's love nor the forgiveness the spirit of Christmas can offer. Can one lonely, broken cowboy forgive himself and accept the love that has always belonged to him? And will the Forbes tradition of Christmas Eve Happily Ever Afters give Steve and Dalton the future they never thought they'd have?
Gabrielle's Review:
Dalton and Steve have a rocky past. Young and inexperienced they both come together for some fun and when Dalton throws it all away for money he soon finds that his relationship with Steve was so much more than just fun. Little does he realize that Steve has been harboring feelings all these years for him as well. This Christmas their good friends decide that they want the two men to find the love and trust that they lost so many years ago.
Cupid Christmas brings us a wonderful story full of emotions. I was immersed in Dalton and Steve's story right from the start. The love that the men share is strong. Steve fights for it but Dalton must get past his mistakes and self-loathing or he just might loose the love that he longs for. I enjoyed watching the two men reconnect and fight for their love. Seeing Dalton come back from the brink with the help of Steve made for a nice read. Lex Valentine does a wonderful job of bringing the characters and their world to life. I loved this visit to the Forbes Ranch and hope that I get to come back again.
--
**Disclaimer: This book has been provided to Coffee Beans & Love Scenes ("CBLS") Reviews free of charge by the author in exchange for an honest review of this title. No money has been exchanged for this review. This review reflects the opinion of the individual reviewer and does not necessarily reflect the opinion of any other CBLS reviewer or this blog's owner, editor or administrator.