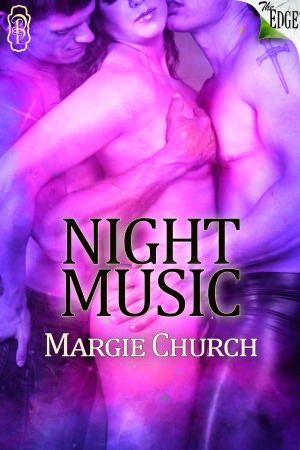 Title:
Night Music
Author:
Margie Church
Publisher:
Decadent Publishing
Sub-Genre:
Contemporary Romance
Length:
19 pages
Heat Rating:
Erotic
Rating:
3.5 Cups
Available at:
Amazon
|
Decadent Publishing
|
B&N
|
ARe
Blurb:
A quiet, lakeside vacation is just what Brielle needs to decompress after her busy concert season. She expects the weeks to pass uneventfully. Until she meets the men next door.
Tyler and Zeke are as adventurous and sexy as the Harleys they ride. The passion they hear in Brielle's music draws them to her.
Convinced the hunks are gay, Brielle lets down her inhibitions. That turns out to be the best decision she's made in a long time.
Denise's Review:
Brielle is a musician taking a vacation at her Uncle's caibn; there she meets his new nieghrbors Tyler and Zeke. After first thinking they are gay she quickly discovered these men are bi and happy to play with her.
Tyler and Zeke have a well developed relationship; the author allows you see how they can communicate without using many words, just with looks; the bond between them is tangible.
I enjoyed this book and I am happy maniac readers has a 3.5 star option as this book is better than average.
I personally thought for a short story it was well written, my problem was as a reader I prefer a longer story so I personally could not give it the 4 stars I gave other more developed menage stories.
I will say this book has me wanting to read more Margie Church, I plan to read The 18th Floor next.
--
**Disclaimer: This book has been provided to Coffee Beans & Love Scenes ("CBLS") Reviews free of charge by the author in exchange for an honest review of this title. No money has been exchanged for this review. This review reflects the opinion of the individual reviewer and does not necessarily reflect the opinion of any other CBLS reviewer or this blog's owner, editor or administrator.