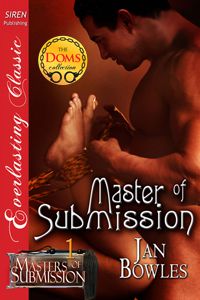 Title:
Master Of Submission
Author:
Jan Bowles
Series:
Masters Of Submission series, #1
Publisher:
Siren-Bookstrand Publishing
Sub-Genre:
Contemporary Romance
Length:
161 pages
Heat Rating:
Erotic
Rating:
4 Cups
Available at:
Amazon
|
Siren-Bookstrand Publishing
|
B&N
Blurb:
Thirty-year-old English lawyer Emma Parkes believes Club Submission holds the key to her best friend's disappearance. Well out of her comfort zone, Emma's eyes are opened wide when she observes the Masters of Submission at work. They're so confident and sexually arousing—especially beautiful blue-eyed Master Zane.
Submission member and Dom Zane Anders frequently enjoys all the club has to offer. The wealthy, forty-year-old diamond importer has everything he could possibly need—everything except for love. A natural dominant, he's not looking for a permanent submissive in his life. But perhaps he'll make an exception for the stunning lawyer from London.
When Club Submission is plunged into a high-profile murder investigation, its very existence is put in jeopardy.
Can Emma unlock the truth, or will the devastatingly handsome Zane Anders, a Master of Submission, unlock her deepest sexual desires, instead?
Sam's Review:
Master of Submission captured my attention from the first page and I was able to complete in one sitting without putting down.
The plot is this. Emma Parkes has decided to move abraod to live with her best friend and set up a practice of their own. When her friend is nowhere to be been Emma decides to check out the local BDSM club, Club submission. There, she meets the Dom, Zane. Zane is instantly attracted to Emma and together they work through their attraction and try to find the key to her friend's disappearance.
This story was hot, intense and down right gripping. I've not read many of Jan Bowles's books but she's certainly an author to read. Master of Submission shows the BDSM world in an intriguing light. The chemistry between Emma and Zane is amazing. I loved how perceptive the author made Zane. He was a strong yet gentle character.
This story is a keeper. A really good story that is worth the time to read.
--
**Disclaimer: This book has been provided to Coffee Beans & Love Scenes ("CBLS") Reviews free of charge by the author in exchange for an honest review of this title. No money has been exchanged for this review. This review reflects the opinion of the individual reviewer and does not necessarily reflect the opinion of any other CBLS reviewer or this blog's owner, editor or administrator.