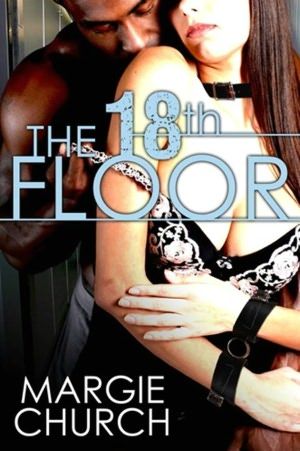 Title:
The 18th Floor
Author:
Margie R. Church
Publisher:
Sizzler Editions
Sub-Genre:
Contemporary Romance
Length:
120 pages
Heat Rating:
Erotic
Rating:
3 Cups
Available at:
Amazon
|
Sizzler Editions
|
B&N
Blurb:
Alexa Robbins is so consumed by her career, the only sex she has is listening to her nymphomaniac neighbors go at it. When Sebastian Law discovers her in the eighteenth floor conference room early one morning, the table becomes a pallet for making one of her fantasies come true. Will he enjoy her extensive repertoire?
On the outside, Sebastian appears a buttoned-up, well-dressed, techno geek. Inside, he's a Dom with a hearty appetite for all types of carnal pleasures. He risks alienating Alexa by revealing his true nature, but he won't keep the secret for long.
Together, they explore all the things that turn them on. And discover whether they're a perfect match for life beyond the 18th Floor.
Content advisories: bi-racial m/f, m/m, BDSM, ménage, spanking, flogging, oral sex, anal sex, voyeurism, exhibitionism, sex in public places, phone sex.
Denise's Review:
The 18th Floor tells the story of an overworked Rocket Scientist Alexa and her journey with the very sexy IT consultant Sebastian.
After an encounter in the 18th Floor conference room Sebi as he is called takes Alexa on a journey into his world as a Dom.
Overall, I enjoyed this story.
There were some well written hot scenes, the story did develop beyond the sex but for me I personally needed more.
Sebi speaks to Alexa about how she must trust him for this relationship to work; but when it comes to key aspects of her life, like doing something that could led her crazy ex-boyfriend to her, Alexa neglects to tell him. This to me left me feeling like the relationship had no matured yet.
As an example of let wanting more Alexa buys Sebi as gift, the story tell you about it; then he uses it but you do not see his reaction to getting it.
Alexa also speaks to herself about herself and her fantasies but the book never has her telling Sebi most of them, I found this disappointing. I found myself wanting Alexa to fully trust Sebi, to open up and share her desires. So again a place I was left wanting more.
The BDSM was on the light side of the spectrum and Ms Church did a good job showing that Sebi cared about Alex and wanted her to see what his lifestyle was. There was a whipping scene but it did not involve the main characters and again the authors outlined Alexa's enjoyment of the scene and Sebi's desire to show her.
For me the story felt incomplete, early on Sebi says he would consider moving around less if he meet the right girl but the story did not tie that up for me.
I much prefer to see a happy down the road, this to me felt like happy for now and happy after a major incident. The ending felt a bit rushed and I was left thinking that's it, thats the end.
I will read another book by Ms Church as this book had potential.
--
**Disclaimer: This book has been provided to Coffee Beans & Love Scenes ("CBLS") Reviews free of charge by the author in exchange for an honest review of this title. No money has been exchanged for this review. This review reflects the opinion of the individual reviewer and does not necessarily reflect the opinion of any other CBLS reviewer or this blog's owner, editor or administrator.