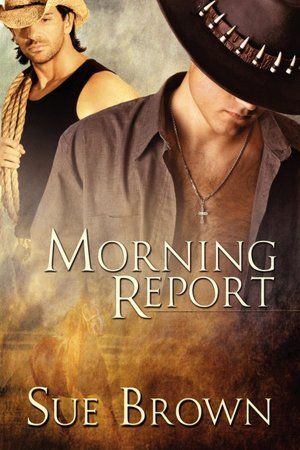 Title:
Morning Report
Author:
Sue Brown
Publisher:
Dreamspinner Press
Sub-Genre:
Western Romance
Length:
220 pages
Heat Rating:
Erotic
Rating:
4.5 Cups
Available at:
Amazon
|
Dreamspinner Press
|
B&N
|
ARe
Blurb:
A decade on from their first kiss, Luke Murray is more in love with Simon every day. Running the Lost Cow ranch for Luke's parents, they keep their heads down and get along with the locals, even if Luke is known for being a hothead. Then one day they discover the local store owners refuse to serve them.
They're bewildered until Luke's mom tells them the new pastor has targeted the couple in his sermons. Suddenly Luke and Simon find themselves alienated from people they called friends, and their ranch comes under a series of attacks. As the town's hatred and homophobia turns on them, Luke and Simon will face a critical choice: give in to the town's demands and disappear, or stand and fight for themselves and their love.
Aine's Review:
Morning Report
by Sue Brown is the journey of Luke, the manager of The Lost Cow Ranch, and Simon, his foreman and lover, as they struggle to save their ranch from bigots and homophobes. Luke and Simon met 10 years ago when they became college roommates and after an almost bar fight, ended up lovers. Once they graduated, they both moved to the Lost Cow and have been working and loving together ever since.
The local church in their small community gets a new preacher and from there everything goes down hill. Stores refuse to sell to the men, a dinner refuses service to Simon, their ranch is repeatedly attacked, even their cattle were poisoned. Through it all they fight for their ranch and to protect their loved ones, but it takes a toll on their love and faith in each other after a time.
Having said all that, Morning Report is a H-O-T, loving, powerful read that I absolutely adored. I read this out of order (Complete Faith is book 2 of this series and also a must read!) which I would not suggest because it makes you antsy for certain things to happen and one person in particular to appear, lol.
Sue has woven a wonderful story with hot cowboys, love conquering hate, engaging read. Just remember, iced tea to cool you down as these sexy boys have a bit of D/s to their lovemaking and wow, do they take advantage of each other ev-ery-where!
--
**Disclaimer: This book has been provided to Coffee Beans & Love Scenes ("CBLS") Reviews free of charge by the author in exchange for an honest review of this title. No money has been exchanged for this review. This review reflects the opinion of the individual reviewer and does not necessarily reflect the opinion of any other CBLS reviewer or this blog's owner, editor or administrator.