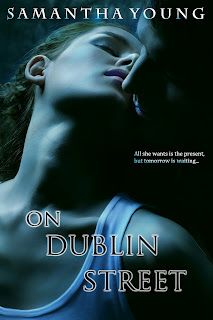 Title:
On Dublin Street
Author:
Samantha Young
Publisher:
self published
Sub-Genre:
Contemporary Romance
Length:
414 pages
Heat Rating:
Erotic
Rating:
5 Cups
Available at:
Amazon
|
Smashwords
Blurb:
Four years ago, Jocelyn Butler left her tragic past behind in the States and started over in Edinburgh. Burying the grief, ignoring her demons, and forging ahead without any real attachments has worked well for her so far but when Joss moves into a fantastic apartment on Dublin Street, her carefully guarded world is shaken to its core by her new roommate's sexy older brother.
Braden Carmichael is a man who always gets what he wants. And what he wants is Jocelyn in his bed. Knowing how skittish Joss is concerning any kind of relationship, Braden proposes a sexual arrangement that should satisfy the intense attraction between them without it developing into anything 'more'. An intrigued Jocelyn agrees, completely unprepared for the Scotsman and his single-minded determination to strip the stubborn young woman bare…to the very soul.
Cole is determined to strip away all of her defenses but refuses to lower his ever-present walls, so when Christy realizes she wants more, she's left with only two options; walk away or crack his shield and risk her heart in the process.
Denise's Review:
I loved this book, On Dublin Street tells the tale of Jocelyn Butler a woman who lost her family when she was young.
Joss as she prefers to be called is a very believable character. In response to tragedy she has been to built up walls around herself to keep people at a distance, by doing so she thinks she can avoid being hurt again.
Joss has been able to pull this off for almost 8 years, well that is until she finds a new roommate (flatmate since the book is set in Scotland) Ellie and meets Ellie's brother, Braden Carmichael.
Braden is sexy, charming, and is so intuitive when it comes to what Jocelyn is feeling. He often knows what Joss needs without her saying anything, even if it to not ask questions and give her space, Braden gets her.
Braden is a successful professional who until he meets Jocelyn appears to be the eternal bachelor. Truth is the only reason Joss agrees to Braden's first arrangement (I do not want to give away the story) is because she thinks he is unable to committ.
Again, this builds with Ms Young believable story line. Braden has his own past to deal with and his opening up to Jocelyn is the start of their relationship moving to the next level.
Braden understands why Jocelyn is guarded, he does not try to fix her, he accepts her and wants to help her overcome her past (his helping her when she is having a panic attack will melt your heart).
The chemistry between the two of them is off the charts, you can really feel the connection between them, again excellent job by the author.
Joss pushes Braden back and hard at times; but since the author does such a good job with her story you understand why. Ms Young also uses some dialogue with Jocelyn therapist to try to outline her struggle, she also uses the therapist to push Joss, saying many of the things to her I think readers would want to say at some points during the story.
I enjoyed the small ways that Ms Young pointed out the things Braden were doing that were different than things he has done for other women in his past. She uses his words along with stories and words of other characters to highlight how Jocelyn has effected him in a way no other has. I truly loved seeing this; it really drove the point home that this was Braden's soulmate and made it clear why he was willing to fight so hard for her.
I should also add the chemistry between these two made for some hot scenes; fun and hot, sexy and hot and emotional and hot. Ms Young used their desire for each other to push many buttons for the readers, so well done.
The use of Ellie's family is a wonderful example of how the author builds a well rounded story with secondary character developing that pulls you into her literacy masterpiece. Ellie and her brother's best friend, Adam get a bit of their own story that will keep you wanting more as well.
Grieve and loss can affect people in so many ways; Jocelyn's journey is a heart wrenching and emotional read that at times will make you laugh, at times might make you cry, will definatly have you sweating for Braden and in the end will leave you loving this story.
It was delightful sharing their journey as they discovered each other, and surprisingly finding themselves individually along the way.
I do not want to give away the end but I feel like should say it was really well done. Their physical connection was their but the emotional connection took the relationship to a new level and it was amazing!
The author created two less than perfect characters who had real reasons for their flaws, this translated for me into a strong leading lady and an alpha male who made sense to me.
This almost 400 page book flew by, you will be compelled to keep reading. Ms Young will have you laughing, crying and wanting to know how the story unfolds.
My Mom would tell you I was a child who did not enjoy reading; well I am a woman who read this book in less than two days and if I could have sat and read it from cover to cover in one day I would have.
I truly hope this book is made into a movie one day; it is that good.
Thank you Ms Young for a wonderful read, for beyond believable characters and for a cast I want to read more about!
--
**Disclaimer: This book has been provided to Coffee Beans & Love Scenes ("CBLS") Reviews free of charge by the author in exchange for an honest review of this title. No money has been exchanged for this review. This review reflects the opinion of the individual reviewer and does not necessarily reflect the opinion of any other CBLS reviewer or this blog's owner, editor or administrator.