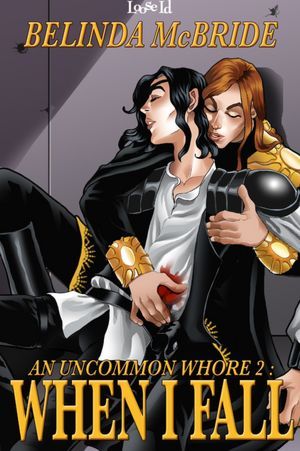 Title:
When I Fall (An Uncommon Whore 2)
Author:
Belinda McBride
Publisher:
Loose ID
Sub-Genre:
Sci-Fi/Fantasy
Length:
154 pages
Heat Rating:
Erotic
Rating:
4 Cups
Available at:
Amazon
|
B&N
Blurb:
As king, Helios Dayspring is desperate to secure the future of his people and their new homeworld. His lost memories are slowly returning, bringing with them danger and betrayal.
As the king's consort, Griffin Hawke wrestles with growing isolation from his lover. When Helios's secrets begin to come to light, Griffin finds that he barely recognizes him anymore. And Griffin is haunted by his own secrets, nightmares that bring torture and death in his sleep.
Surrounded by enemies and allies, seductive aliens and dangerous operatives, Helios and Griffin find themselves tested to their physical and moral limits. Not knowing who to trust, they can only turn to each other.
Will you be there to catch me when I fall?
pechedete's Review:
Helios Dayspring and Griffin Hawke are settling in to their new roles on Neo Domus. While Lio's memories haven't returned,some things are coming back due to the amount of practice he received while training to be a priest. Not everyone is happy that Lio has returned and, due to his faulty memory, he's not sure who he can trust. This begins to cause problems with Griffin because he knows that Lio's keeping things from him; he just can't figure out why.
I loved learning more about Astrum as well as the cast of characters introduced in An Uncommon Whore. Ms. McBride explained more about the invasion of Arash and the vulnerability of both the Astrums and Talisians face on Neo Domus. While I enjoyed the interactions between Lio and Griffin, it was the secondary characters such as Carlotta, Raven, and Caius that made When I Fall work for me. The introduction of the new races and the unanswered questions appear to be the perfect setup for a third book in this series, which I hope Ms. McBride will write.
When I Fall is the second book in the Uncommon Whore series and is a solid read. There is enough back story that it can be read alone. However, I would suggest that you read An Uncommon Whore as it is simply a captivating story.
--
**Disclaimer: This book has been provided to Coffee Beans & Love Scenes ("CBLS") Reviews free of charge by the author in exchange for an honest review of this title. No money has been exchanged for this review. This review reflects the opinion of the individual reviewer and does not necessarily reflect the opinion of any other CBLS reviewer or this blog's owner, editor or administrator.