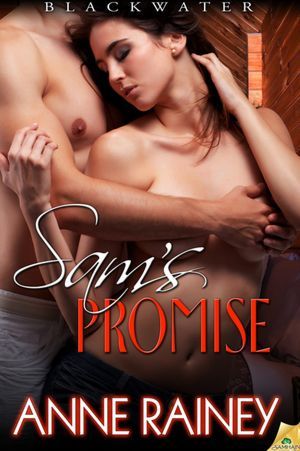 Title:
Sam's Promise
Author:
Anne Rainey
Publisher:
Samhain
Sub-Genre:
Erotic Romance
Length:
95 pages
Heat Rating:
Erotic
Rating:
4 Cups
Available at:
Amazon
|
B&N
|
Samhain Publishing
|
All Romance eBooks
Blurb:
Sam Jennings promised his father he'd always take care of the woman who yanked him and his four brothers out of foster care. When his adoptive mom has a near-fatal heart attack, Sam knows it's past time to live up to his word.
As he sets out to put the Blackwater Diner back on its feet, he runs into his first snag. Waitress Julie Rose's sweet curves and long legs are driving Sam to distraction. Even his brothers aren't immune to her kind heart. But Sam is determined to be the only man in her bed.
Julie doesn't regret the years she lost caring for her grandmom, but now, between business classes and her job, she's left with very little time and energy for dating. Then there's her policy about never getting mixed up with the boss's son. But Sam's hard body and wicked ideas have Julie forgetting all about annoying things like rules, and she accepts his invitation to show her all she's been missing.
Sam is more than willing to take things slow as he teaches her all about the pleasures of the flesh. Luckily for him, Julie is a darned good student…
Sam's Review:
Sam's Promise is the beginning of a new series for Anne Rainey and it does not disappoint. Sam Jennings was a foster kid. He and his brothers come back to town to help out the woman who pulled them out of the system when she has a heart attack that could have been fatal. He takes over the running of the Blackwater Diner and this is where Julie comes in. Julie Rose is a good honest woman who's been running the diner since his mother has been suffering with her health. The chemistry between them is instant.
Sam is everything I love about a man. He's hot and goes after what he wants. Julie is a proper woman with full curves and can stand up to her man. The chemistry between them is instant and hot. From the moment this story starts you are drawn into the tale. As this is the first book in a series, I eagerly anticipate the other installments.
Anne Rainey writes stories that are not only hot but is full with romantic elements without being cheesy.
I would highly recommend Sam's Promise.
--
**Disclaimer: This book has been provided to Coffee Beans & Love Scenes ("CBLS") Reviews free of charge by the author in exchange for an honest review of this title. No money has been exchanged for this review. This review reflects the opinion of the individual reviewer and does not necessarily reflect the opinion of any other CBLS reviewer or this blog's owner, editor or administrator.