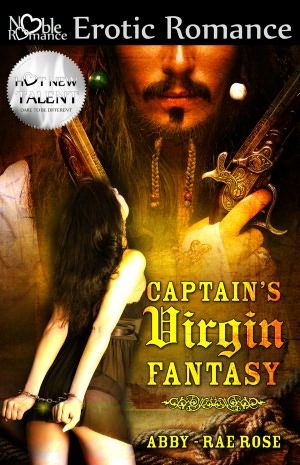 Title:
Captain's Virgin Fantasy
Author:
Andrea M Haywood-Gray
Publisher:
Noble Romance Publishing LLC
Sub-Genre:
Erotic Historical Romance
Length:
19 pages
Heat Rating:
Erotic
Rating:
4 Cups
Available at:
Amazon
|
B&N
|
Noble Romance Reviews
|
All Romance Ebooks
Blurb:
He's changed everything . . . but she can't change the fact she loves him.
Victoria refuses to let Ishmael intimidate her. She's faced with a choice. Return to her life of duty, or embrace her spirit of adventure . . . and sail the high seas with the man who has captured her heart.
Captain Ishmael's demands are simple . . . . In exchange for his pleasure, and her body to quell his voracious lust, he will guarantee safe passage.
But, Ishmael plans don't include giving up his lover so easily. And once he gets a taste of Tori's sweet blend of innocence and boldness, he can't imagine living without her.
Sam's Review:
This is a very short story, only nineteen pages but the author manages to bring you in to the fantasy world of a pirate.
Victoria wants her innocence to remain intact but she cannot deny the attraction she feels for the pirate Captain.
I don't want to say much as this is a short story and so delving in too deep could spoil it for the reader. What I will say is it has a delightful twist, is really well written and even with the shortness the characters are wonderful.
A brilliant story.
--
**Disclaimer: This book has been provided to Coffee Beans & Love Scenes ("CBLS") Reviews free of charge by the author in exchange for an honest review of this title. No money has been exchanged for this review. This review reflects the opinion of the individual reviewer and does not necessarily reflect the opinion of any other CBLS reviewer or this blog's owner, editor or administrator.