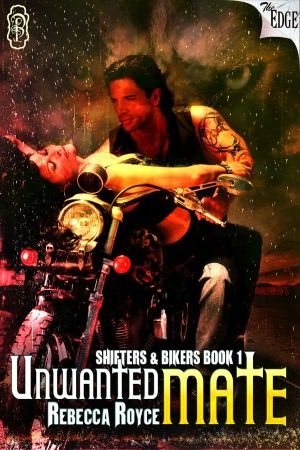 Title:
Unwanted Mate (The Edge series, Shifters & Bikers)
Author:
Rebecca Royce
Publisher:
Decadent Publishing
Sub-Genre:
Paranormal Romance
Length:
17 pages
Heat Rating:
Erotic
Rating:
3.5 Cups
Available at:
Amazon
|
B&N
|
Decadent Publishing
|
All Romance eBooks
Blurb:
For years, shapeshifter Gunther West has known Judy is his mate. His little human isn't so sure. But a tragedy brings her knocking on his door seeking comfort, which Gunther is more than ready to provide. Neither can deny the sparks that fly, but are those sparks enough for forever?
Meingee's Review:
Love will find its way; at least that is what Gunther has believed for the last few years while waiting for his mate Judy to accept him. Judy has continuously pushed him away until today. Something has brought her to his room in the middle of the night and he intends to find out what is wrong. Gunther will help his mate whether or not she wants him to.
This story was both hot and sweet at the same time. Gunther is a good man and is more than willing to wait Judy out. She is his mate and he will do what needs to be done when it comes to her happiness. I enjoyed meeting Gunther and Judy but would have liked to have a bit more of a back-story and more character development. It would have been nice to see why Judy keeps pushing Gunther away. Yet the story that I read did indeed pull at my heartstrings and the author brought me a sweet story about two destined people. Showing us that if you believe in love things will turn out all right in the end.
I may not have enjoyed this quick read as much as some of this authors previous work but I did find myself engrossed in this world and hope it is not the last time that we are able to visit it.
--
**Disclaimer: This book has been provided to Coffee Beans & Love Scenes ("CBLS") Reviews free of charge by the author in exchange for an honest review of this title. No money has been exchanged for this review. This review reflects the opinion of the individual reviewer and does not necessarily reflect the opinion of any other CBLS reviewer or this blog's owner, editor or administrator.