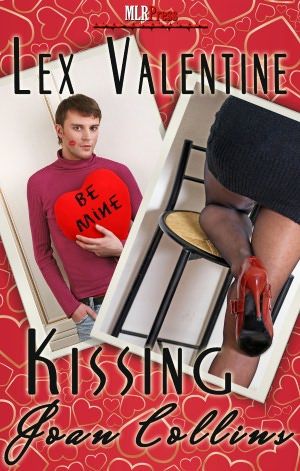 Title:
Kissing Joan Collins
Author:
Lex Valentine
Publisher:
MLR Press
Sub-Genre:
GLBT
Length:
66 pages
Heat Rating:
Erotic
Rating:
4.5 Cups
Available at:
Amazon
|
B&N
|
MLR Press
|
All Romance eBooks
Blurb:
Gay suspense author Logan Moore fell in love with the most perfect gay man ever during his freshman year in college. But his roommate and best friend Chase Courtland never showed an interest in him. Twelve years and a handful of failed relationships later, Logan acknowledges that he still loves Chase. When Chase puts on a designer dress, four-inch heels and a wig and transforms himself into Joan Collins for a Valentine's Day masquerade party, Logan's libido rockets out of control. One look at Chase's perfect ass in the skin tight dress and Logan is ready to drag him off to bed. But can two best friends bridge the gap of a dozen years of denial and build a life together after one amazing night of revelations, confessions and love?
Meingee's Review:
Logan and Chase have been best friends since they met many years ago. Both men have hid their true feelings for each other for twelve years. When Chase finally reaches the end of his rope he decides to bite the bullet and show Logan just how much he cares for him. Now if only Logan can admit his feelings as well. Can the two men find love and their happy ever after or is it too late?
When I pick up a book by this author I know that I am in for a great ride. This story is full of emotions and the love that the two men feel is so strong it is almost a tangible thing. Chase puts his heart on the line and serves it up to Logan on a platter and can only hope that Logan does not refuse it. I loved both Logan and Chase and would be hard pressed to pick just one of them. Logan and Chase are both great men who finally get a taste of what they have been longing for all these years and each man is more than willing to fight for the love that they have found. I enjoyed watching both men find their way to each other and their happy ever after. I loved seeing the romance bloom and the trust between them strengthen. We get a wonderful romance as well as one hot read with this book. The men come vividly to life as we see the depth of their friendship and how it becomes much more making this a book that should be in everyone's library.
--
**Disclaimer: This book has been provided to Coffee Beans & Love Scenes ("CBLS") Reviews free of charge by the author in exchange for an honest review of this title. No money has been exchanged for this review. This review reflects the opinion of the individual reviewer and does not necessarily reflect the opinion of any other CBLS reviewer or this blog's owner, editor or administrator.