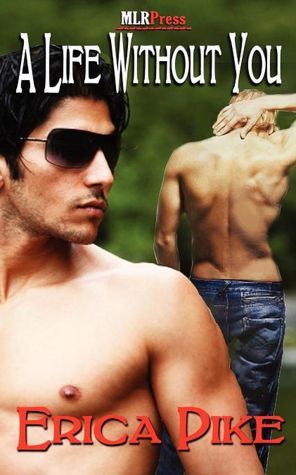 Title:
A Life Without You (Boston Boys Series,#1)
Author:
Erica Pike
Publisher:
MLR Press
Sub-Genre:
GLBT
Length:
236 pages
Heat Rating:
Erotic
Rating:
5 Cups
Available at:
Amazon
|
B&N
|
MLR Press
|
All Romance eBooks
Blurb:
Jesse's like a bar of soap: the tighter Adam holds on, the faster Jesse slips away. Or that's how it feels to Adam. It doesn't help that Jesse has a girlfriend back home and claims to be straight, but there's no way with all the sparks and physical intimacy flying between the two roommates.
When Adam believes he has reached his ultimate happiness, the bedroom walls come crashing down with a visit from Jesse's girlfriend.
Now Jesse has to decide if he can come to terms with his sexuality, while Adam has to learn to accept that Jesse might never be able to crawl out of the closet.
Pechedete's Review:
Adam falls for his college roommate, Jesse Jefferson, and falls hard. The problem is that Jesse's straight and has a girlfriend back home that he plans to marry. Although Jesse knows that Adam is gay, Jesse begins to engage in behavior that leads Adam to believe that Jesse's not as straight as he professes to be. The resulting aftermath of dare at a party ends up with Jesse and Adam starting a relationship, even though Jesse is still involved with Anne. When push comes to shove will Jesse step out of the closet and claim Adam as his own or will he continue to live the life everyone expects of him and stay with Anne?
Strap on your seatbelt and hold on to the handlebars as you take a ride on the emotional rollercoaster known as
A Life Without You
. This book is a sweet romance chocked full of angst and drama. A Life Without You made me laugh and cry and laugh some more and I loved every second of it! No matter how much I wanted to dislike Jesse because of his selfish behavior and the turmoil he caused Adam, I just couldn't. I was as drawn to him as I was to Adam. Erica Pike forced me to love Jesse and be understanding of his decisions. It helped that Adam's obsessively blind devotion was tempered by Eric's, Adam's good friend, determination to save Adam from the abyss. Not only did Ms. Pike write strong main characters, but she included equally strong and likeable secondary characters like Eric and Jazz, who helped balance the story.
A Life Without You
is one of those books that is hard to put down and you want to read straight through without interruption. It definitely has a place on my keeper shelf and should find a spot on yours as well.
A Life Without You
is the first book in the
Boston Boys
series and I can't wait to see what Ms. Pike has in store for the other guys introduced in this story.
--
**Disclaimer: This book has been provided to Coffee Beans & Love Scenes ("CBLS") Reviews free of charge by the author in exchange for an honest review of this title. No money has been exchanged for this review. This review reflects the opinion of the individual reviewer and does not necessarily reflect the opinion of any other CBLS reviewer or this blog's owner, editor or administrator.