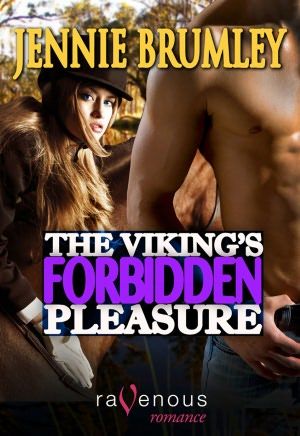 Title:
The Viking's Forbidden Pleasure
Author:
Jennie Brumley
Publisher:
Ravenous Romance
Sub-Genre:
Paranormal Romance
Length:
171 pages
Heat Rating:
Erotic
Rating:
4 Cups
Available at:
Amazon
|
B&N
|
Ravenous Romance
|
All Romance eBooks
Blurb:
Always the dutiful daughter, Elly Harding knows the only way to protect her father is to sacrifice her own happiness and marry a man she can never love, but when an unexpected honeymoon gift presents her with the opportunity to explore the darker desires this proper young woman has always repressed, how can she possibly give up what could be her last chance for sexual freedom…and love?
Once a Viking warrior, Haakon Arikson never lacked for women in his bed...until he insulted the wrong one. For almost a millennium he has been cursed to walk alone, living an odd half-life as a stallion by day and a man by night. Tired and lonely he craves oblivion, but the only way to end his curse is to kill the one girl who makes him feel more alive than any other has for centuries.
Sam's Review:
Haakon Arikson has been cursed for eternity to walk the earth as a horse by day and by night turn back to man. The only way to break the curse is by killing Elly Harding, the last decedent of the woman who cursed him. However, Haakon never expected to fall in love with the plain Elly and has found he can't kill her.
This was an interesting read. I've never read a tale about a hero who not only has to kill the heroine but also turns into a horse. They embark on a passionate affair and with every moment they spend together with him as a horse and a man the love grows between them. The sex scenes are not only hot and well written but also show the trust growing between them.
The Viking's Forbidden Pleasure
has a few twists and turns along the way and a really great ending. A very good read.
--
**Disclaimer: This book has been provided to Coffee Beans & Love Scenes ("CBLS") Reviews free of charge by the author in exchange for an honest review of this title. No money has been exchanged for this review. This review reflects the opinion of the individual reviewer and does not necessarily reflect the opinion of any other CBLS reviewer or this blog's owner, editor or administrator.