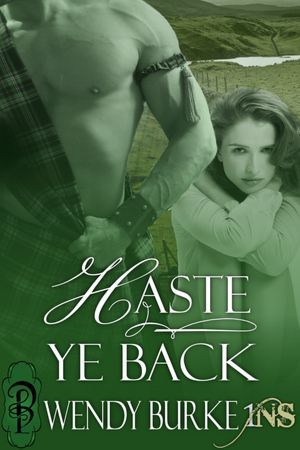 Title:
Haste Ye Back (1Night Stand series)
Author:
Wendy Burke
Publisher:
Decadent Publishing
Sub-Genre:
Contemporary Romance
Length:
50 pages
Heat Rating:
Erotic
Rating:
5 Cups
Available at:
Amazon
|
B&N
|
Decadent Publishing
|
All Romance eBooks
Blurb:
All her life something had drawn Bryn Wallace to Scotland. Just weeks before her lifelong dream trip to visit Edinburgh is fulfilled, Bryn's fiancé dumps her. She's determined to have a good time, but touring the romantic Highlands is a bit boring alone. And not wanting to troll the pubs, she goes out on a limb and signs up with Madame Eve's 1Night Stand service.
Divorced Ian McCallum is tired of making decisions, especially when it comes to women. When an old schoolmate suggests 1Night Stand, he figures he has nothing to lose. But, what he doesn't know is his one-night stand was centuries in the making.
Tsteinrid's Review:
This short story read like a full novel; filled with lovely detail and a plot that was deeply woven, but not complicated. I could almost feel the passion and history between these two characters.
Bryn Wallace has wanted to go to Scotland all her life. When her fiancé decides his job is more important than her dream, she dumps him and goes without him. One misdirected text later and she is scheduled for a night she will not soon forget.
There is a legend that surrounds the community that Ian McCallum resides in. It is a tale of a heart broken man that lost the love of his life forever. All because he couldn't open his heart to her that he loved her. Ian believes that if he ever had the chance at a love like that he wouldn't let it go.
This was more like a one DAY stand. I enjoyed their instant attraction and the build up to their eventual meeting. It was well written and you totally understood where Bryn and Ian were in their lives. Ms. Burke did a fabulous job with their pasts. She gives us just enough background to set the stage and then she let us go; go into the fantasy of their new found love and the heat of their affection.
The legend behind the story blended so well into this tale it almost seems like a third character. The depiction of the legend makes me wonder if it real, one that I would enjoy researching.
There was mention of another couple in the story. I am intrigued and would love to read about their one night stand.
I want more about Scotland, Ian's friend and his lover, and more importantly - of Bryn and Ian. Isn't that what a great story does? It leaves you wanting more, well after finishing the story. You sit back and daydream about the characters, their pasts, presents and futures.
Haste Ye Back
ended on a brilliant high note. Ms. Burke closed the story wonderfully. I have no doubts of their happily ever after. Great job Ms. Burke!!!
--
**Disclaimer: This book has been provided to Coffee Beans & Love Scenes ("CBLS") Reviews free of charge by the author in exchange for an honest review of this title. No money has been exchanged for this review. This review reflects the opinion of the individual reviewer and does not necessarily reflect the opinion of any other CBLS reviewer or this blog's owner, editor or administrator.