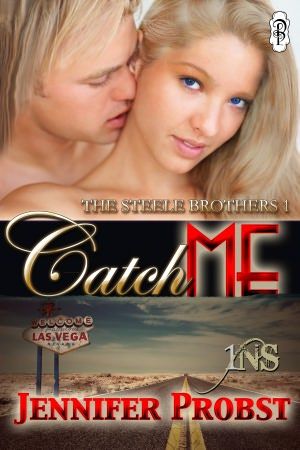 Title:
Catch Me (1Night Stand series)
Author:
Jennifer Probst
Publisher:
Decadent Publishing
Sub-Genre:
Contemporary Romance
Length:
43 pages
Heat Rating:
Erotic
Rating:
4.5 Cups
Available at:
Amazon
|
B&N
|
Decadent Publishing
|
All Romance eBooks
Blurb:
Rick Steele has avoided relationships since he caught his fiancée cheating, but when he's talked into a one night stand through Madame Eve, he's not prepared for his emotional and physical reaction to his date. Tara shows him a raw passion and honesty he's never encountered. For the first time, Rick wants more than one night, but he needs to catch her first...
Tara Denton escaped a brutal past and needs one night with a stranger to get beyond her sexual and emotional limitations. On the brink of recovering her strength and independence, she wants nothing to do with a relationship. But Rick Steele does more than rock her body…he rocks her heart. Tara has to make a choice, but is she ready to get caught?
Tsteinerid's Review:
Catch Me
is the little story that did.
· It
did
make me love Rick and Tara.
· It
did
capture my heart.
· It
did
break out of the normal 1NS mold and gave a little bit more.
· It
did
make me love the 1NS series even more.
Rick is pure alpha male with a heart. He is dominate, strong, loving and yet still tender. He never expected to trust again, but from the moment he sees Tara, then later when he feels her pain, all he can do is open his heart to her.
Tara is determined to be independent and to rediscover herself. Next on her list of self improvement is to get past her insecurities regarding sex. In enters Rick, as she simply puts it, is sex-on-a-stick. He is so far out of her reach, he is in the ozone. Though she is ready to high tail it out of there, Rick will not have any of it. His next goal in life is to make Tara see what he sees; even if it takes more than one night.
Their night of passion is sweet yet hot. Their emotions, fears and passion were wonderfully written, and this short story delivered quite a punch.
One little timeline problem for me bumped it out of the top spot, but not out of my heart. If I could give this a 4.9, I would.
Catch Me
is another great addition to this collection. This is an hour or so well spent and shouldn't be missed! Join me and fall in love with Rick and Tara.
--
**Disclaimer: This book has been provided to Coffee Beans & Love Scenes ("CBLS") Reviews free of charge by the author in exchange for an honest review of this title. No money has been exchanged for this review. This review reflects the opinion of the individual reviewer and does not necessarily reflect the opinion of any other CBLS reviewer or this blog's owner, editor or administrator.