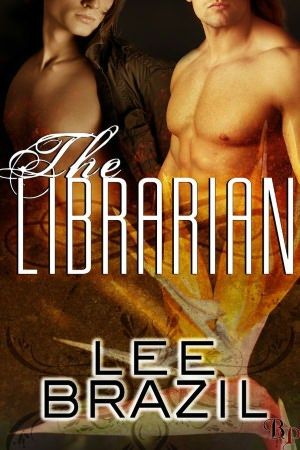 Title:
The Librarian
Author:
Lee Brazil
Publisher:
Breathless Press
Sub-Genre:
GLBT
Length:
63 pages
Heat Rating:
Erotic
Rating:
4 Cups
Available at:
Amazon
|
B&N
|
Breathless Press
|
All Romance eBooks
Blurb:
Valentine Michaels has just taken a vow of celibacy. Adrian Grey intends to take full advantage of that vow to re-create his relationship with Val.
Val is at a crossroads in his life. A college dropout, he's gone as far as he can in his career as a cosmetologist, owning his own style salon. He no longer finds satisfaction in it, though he's put years into proving to his bigoted parents that a college degree and the veneer of straightness aren't the only roads to success. They'd turned their backs on him, and he proved he didn't need them to make it.
His love life is no better than his working life. His relationships always start with a bang and fizzle into boredom, or worse, anger.
Adrianhas his own agenda for helping Val: he's been in love with Val since they were freshmen. The intervening years of listening to Val's gossip about his lovers and relationships have taught Adrian just what it was he did wrong all those years ago, and he thinks this time around he now knows exactly how to get—and keep—his man.
Pechedete's Review:
Adrian Grey has been in love with Val Michaels since they were roommates in college. Val broke Adrian's heart when the day after the only time they had sex Val comes home and tells Adrian he's in love with someone else. This begins a pattern of Adrian suffering through all the gory details of Val's failed relationships. But it will be worth if Adrian wins the game of patience and can wait for Val to grow up and realize the only man he needs is the man that's been there for him for the last ten years.
I loved Adrian! There was more to the mild mannered librarian than what met the eye. I thoroughly enjoyed watching all of his multiple layers being uncovered. There was just an abundance of alpha goodness wrapped in a geeky package. However, I didn't particularly care for Val. To me, he came across as shallow and selfish. Although Val has known Adrian for ten years, he never took the time to get to know him. He kept Adrian around because he was reliable and dependable, but never bothered to ask why he wouldn't upgrade all the old and outdated things in his life. If he had, Val would have fallen for Adrian a lot sooner.
The Librarian is a credit to Lee Brazil's writing talent. Even though I had a serious dislike for Val, Adrian and story in general were so well written that my bad feelings for a main character did not impede my overall enjoyment of this tale. I encourage you to pick up a copy of The Librarian to judge for yourself.
--
**Disclaimer: This book has been provided to Coffee Beans & Love Scenes ("CBLS") Reviews free of charge by the author in exchange for an honest review of this title. No money has been exchanged for this review. This review reflects the opinion of the individual reviewer and does not necessarily reflect the opinion of any other CBLS reviewer or this blog's owner, editor or administrator.