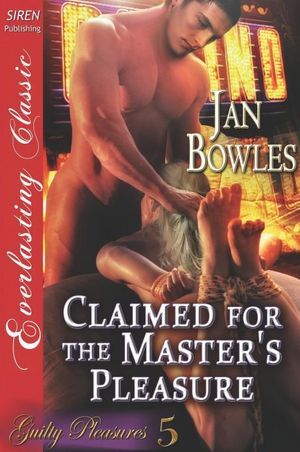 Title:
Claimed for the Master's Pleasure
Author:
Jan Bowles
Publisher:
Siren-Bookstrand Publishing
Sub-Genre:
Contemporary
Length:
153 pages
Heat Rating:
Erotic
Rating:
4.5 Cups
Available at:
Amazon
|
B&N
|
Siren-Bookstrand Publishing
Blurb:
When Lia Constantine's father dies suddenly, she's shocked to discover he's left casino debts totaling more than one million dollars. Unless she sells the family home, making herself homeless, she cannot repay the debt.
Under difficult circumstances, self-made billionaire Jake Benetti, owner of the Arabian Nights Casino, meets the incredibly beautiful Lia Constantine for the first time. As soon as he sees her, he knows she holds the key to unlocking his broken heart. He cannot allow this highly alluring woman to slip through his fingers. Caught between the past and the future, he makes her an offer she simply can't refuse—until Lia repays her father's gambling debts, he owns her, mind, body, and soul.
Lia is into the BDSM lifestyle as much as Jake is, but with their D/s relationship beginning to blossom, will the money drive a wedge between them? Can they ever find happiness together?
Sam's Review:
This has some really great BDSM scene that will have you melting.
Lia Constantine doesn't know why casino owner Jake Benetti wants to talk to her. When she's kidnapped and taken to his casino she soon enters in a nightmare with no positive way out. Jake is intrigued by the daughter of one of his deceased clients. However Lia's father has mounted up debt within his casino and he needs to get it back.
Jake is a pure dominant but with respect for woman and Lia has caught his eye. I love the description of the way he feels for her and how the emotion develops within him. He's kind and strong and I loved his alpha male that really came through. Lia is a strong woman as well as a submissive. I liked the difference in her character when she's with Jake in the sexual sense and the everyday routine.
This is a wonderful story that is wonderful written and not at all predictable. I would recommend this read for anyone who enjoys the BDSM books with a touching romance that shows a build up.
Excellent reading.
--
**Disclaimer: This book has been provided to Coffee Beans & Love Scenes ("CBLS") Reviews free of charge by the author in exchange for an honest review of this title. No money has been exchanged for this review. This review reflects the opinion of the individual reviewer and does not necessarily reflect the opinion of any other CBLS reviewer or this blog's owner, editor or administrator.