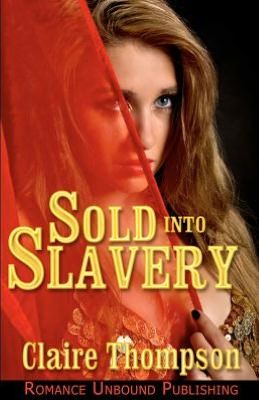 Title:
Sold into Slavery
Author:
Claire Thompson
Publisher:
Romance Unbound
Sub-Genre:
BDSM
Length:
100 pages
Heat Rating:
Erotic
Rating:
4.5 Cups
Available at:
Amazon
|
B&N
|
Romance Unbound
|
All Romance eBooks
Blurb:
Ruthless sex slave traffickers have set their sights on Leah Jacobs, a young American vacationing in Thailand. Unaware of the kidnappers' net closing around her, Leah meets Devin Lyons, a sexy Englishman with a shared love of all things BDSM. After a sensual night of erotic exploration, the two plan to meet again the next evening.
But in the morning, while Leah's on a shopping expedition in the streets of Pattaya, the slave traffickers spring their trap. Thrown into a dark and dangerous nightmare, Leah is held captive by a sadistic master, tortured and controlled against a backdrop of magnificent wealth and opulence.
Determined to get to the bottom of Leah's disappearance, Devin finds himself up against dangerous forces that have a vested interest in making sure he fails. But Devin, with determination and connections of his own, will stop at nothing to save the woman he loves.
Sam's Review:
Sold into Slavery
was a very interesting concept and as far as I'm concerned it did not disappoint.
The storyline is Leah Jacobs who is an American spending her vacation in Thailand. On her trip she meets Devlin Lyons. They spend a night together exploring their love of BDSM. The couple plan to meet again on the following evening. Leah leaves to go shopping and her nightmare begins. She is taken by sex slave traffickers. When she disappears, Devlin won't accept she's gone and goes out of his way to find her.
This is a very short story but one that will stay with me for some time. Claire Thompson made
Sold into Slavery
a really intense and thoroughly enjoyable read.
I found myself gasping when Leah was taken and then the situations she was in during her captive time. I like the way it showed her inner fight against what was happening to her. This helped with the strengthening of her character and the connection she felt with Devlin. No matter what happened, she knew he was going to come for her.
If you want to read something different that will make you nervous, angry and in places happy, then this is the book for you.
I thoroughly enjoyed this well written piece.
--
**Disclaimer: This book has been provided to Coffee Beans & Love Scenes ("CBLS") Reviews free of charge by the author in exchange for an honest review of this title. No money has been exchanged for this review. This review reflects the opinion of the individual reviewer and does not necessarily reflect the opinion of any other CBLS reviewer or this blog's owner, editor or administrator.