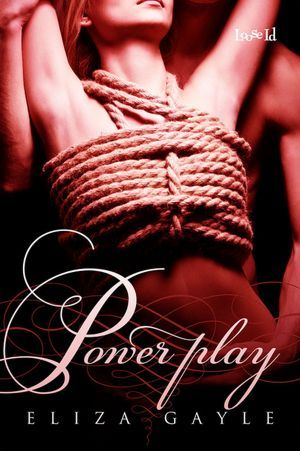 Title:
Power Play
Author:
Eliza Gayle
Publisher:
Loose ID
Sub-Genre:
BDSM Contemporary Romance
Length:
144 pages
Heat Rating:
Erotic
Rating:
5 Cups
Available at:
Amazon
|
B&N
|
PUBLISHER NAME
|
All Romance eBooks
Blurb:
She wants the escape. He wants control. They both
need
love.
Jennifer Croft is at the peak of her career. As a bondage model at Altered Ego she's become the crème de la crème of the fetish world, ensuring herself a top spot in her profession. The world is her oyster. Her personal life, on the other hand... It's not pretty. Only her fascination with pain play keeps the ghosts of her past at bay.
After tragedy sends Daegan McKenna to the South for a much needed change of pace, the last thing he expects to find is a closet submissive hiding in plain sight. She's hot-tempered and in denial -- a heady combination that brings out the dominant looking for a challenge. He's already loved and lost more than one man should, but the haunted look in her eyes prompts him to make her an offer: he'll indulge her darkest fantasies, if she'll agree to give up control. Then he'll let her go.
Unfortunately the past never stays in the past and old insecurities cause complications neither of them wanted. Soon temporary power play is not enough.
Publisher's Note: This book contains explicit sexual situations, graphic language, and material that some readers may find objectionable:anal play/intercourse, BDSM theme and elements (including/not limited to bondage, exhibitionism, flogging, spanking, voyeurism).
Sam's Review:
I found
Power Play
an emotional and enthralling read. I didn't want it to end.
Jennifer Croft is a bondage model who is at the peak of her career. She appears cold to many but their are a select few who see past her hard exterior to the woman beneath. Daegan McKenna is a Dom and one of the men who see the submissive and caring woman in Jennifer. However, due to a really horrible child hood, Jennifer doesn't know how to love and is afraid to put all of her control into a man.
Eliza Gayle portrayed Jennifer perfectly. I like the battle she had not only with Daegan but also with herself. She had to fight the battles of her past to see what her Dom could offer her. There was a scene where her step-mother called and I had those moments when I have to remember my kindle can break otherwise a book would have been across the room. I think this is a pivotal scene though and really shows the growing relationship between these two people.
A fantastic read and one I would highly recommend. Loved it.
--
**Disclaimer: This book has been provided to Coffee Beans & Love Scenes ("CBLS") Reviews free of charge by the author in exchange for an honest review of this title. No money has been exchanged for this review. This review reflects the opinion of the individual reviewer and does not necessarily reflect the opinion of any other CBLS reviewer or this blog's owner, editor or administrator.