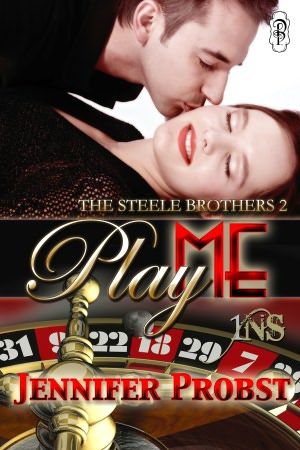 Title:
Play Me (1Night Stand series)
Author:
Jennifer Probst
Publisher:
Decadent Publishing
Sub-Genre:
Contemporary Romance
Length:
32 pages
Heat Rating:
Erotic
Rating:
5 Cups
Available at:
Amazon
|
B&N
|
Decadent Publishing
|
All Romance eBooks
Blurb:
Professional gambler Sloane Keller is tired of dating weak willed men and longs to meet a man who challenges her dominant personality and forces her to submit. As the Queen of Cards, she's used to making her own rules, and craves the excitement of Vegas. But her inner heart cries out for someone who can be her match, both inside the casino and in the bedroom.
As the new dealer in town, Roman Steele is burnt out on women looking for a quick penny and a man to follow. He craves a woman with fire in her soul and a keen intellect who can challenge him. When his brother recruits Madame Eve to help, Rome is amazed at the complicated woman he gets to spend the night with. But when the evening is over, will she be gutsy enough to offer him forever?
Tsteinerid's Review:
I am very glad Ms. Probst is doing a miniseries in the 1Night Stand series. I fell in love with the first brother, Rick, and I can see an addictive pattern with the all the Steele brothers. They are as strong as their name implies.
Roman has recently moved to Las Vegas from Atlantic City. His brother has been hounding him to move out west and here he is. Now Rick has the gumption to buy him a date. Just because he found love doesn't' mean Roman will. Before he can change his mind Madame Eve makes the call and now Roman is in for a treat.
Sloane is a strong woman in a man's sport. She has conquered poker and is now top in her field. The problem is, either the men in her life are intimidated by her strength or are too weak to stand up to her. She is desperate to meet someone who will take her to new heights. From the moment she set her eyes on Roman, she knew she was going all-in or nothing.
Fun, fun, fun –
Play Me
was just FUN!! Roman was hesitant until he sees the woman sitting at the card table and Sloane was leery about the strong heated look the man across the room was giving her. Both were blown away and their one night stand was dominate, sexy and hot.
Ms. Probst has written a great story. Of course this is a short story and I knew it coming into it, but it was really a very fast read. It was smooth and there was not a single bump along the way. I was left wanting more and I will get that with the last installment in the
Steele Brother's Trilogy
–
Dare Me
.
Play Me
was another great addition. I loved the interplay between the characters and the simplicity of their romance. They are a natural couple and I could see it throughout the whole story. This is a wonderful way to spend an hour. Bath time reading at its best!
--
**Disclaimer: This book has been provided to Coffee Beans & Love Scenes ("CBLS") Reviews free of charge by the author in exchange for an honest review of this title. No money has been exchanged for this review. This review reflects the opinion of the individual reviewer and does not necessarily reflect the opinion of any other CBLS reviewer or this blog's owner, editor or administrator.