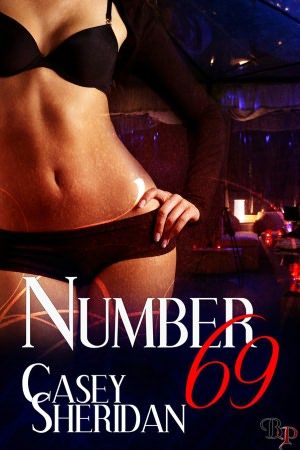 Title:
Number 69
Author:
Casey Sheridan
Publisher:
Breathless Press
Sub-Genre:
Contemporary Romance
Length:
36 pages
Heat Rating:
Erotic
Rating:
3.5 Cups
Available at:
Amazon
|
B&N
|
Breathless Press
|
Smashwords
Blurb:
Can a pair of vibrating panties help Melodie find the man of her dreams?
A matchmaking party was not Melodie's idea of fun, and wearing vibrating panties was just plain weird. Or was it? Should she go to the party? After all, she just might meet Mr. Right. And if he doesn't show, she has the vibrating panties to keep things interesting.
Brynn's Review:
Sheridan's naughty librarian Melodie is a wild cat in disguise in this fabulous short erotic novel. Add in Melodie's quirky friend Trudy and you have a powerful duo. But wait! Don't forget the pair of vibrating panties! LOVED this part of the story!
Move to the party and Tad, who has the remote to her special panties. WOW!
Sheridan's dialogue is well written and I love how she describes Melodie's last experience with a man going down on her. "Hot pleasure, like molten lava"... another WOW factor. The way Sheridan builds the story line, gives life to the characters and creates such a believable love is well done. I actuall y laughed out loud with the referral to Melodie's outcry from her LOUD orgasm and the library board. Kudos to Sheridan for that touch of humor.
This was the first book by Sheridan that I have had the pleasure of reading- and I can guarantee I will be seeking out more. This is a definite fast-paced read I would recommend.
--
**Disclaimer: This book has been provided to Coffee Beans & Love Scenes ("CBLS") Reviews free of charge by the author in exchange for an honest review of this title. No money has been exchanged for this review. This review reflects the opinion of the individual reviewer and does not necessarily reflect the opinion of any other CBLS reviewer or this blog's owner, editor or administrator.