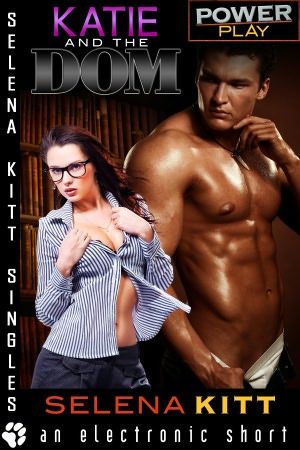 Title:
Power Play: Katie and the Dom
Author:
Selena Kitt
Publisher:
eXessica Publishing
Sub-Genre:
BDSM Romance
Length:
43 pages
Heat Rating:
Erotic
Rating:
4 Cups
Available at:
Amazon
|
B&N
|
eXessica Publishing
|
All Romance eBooks
Blurb:
Selena Kitt's *Power Play*—where those uber-hot alpha authority figures take full advantage of their status to strike up all sorts of sexy naughtiness with their subordinates!
Katie has a secret wish—she wants to be a submissive. She dreams of being a man's sex slave—forced, bound, gagged, taken and used for a man's pleasure. But single, sedate, librarian Katie doesn't run in those circles and has no idea how to make that happen, until she sees an ad on Craiglist. Her friend, Lori, tells her it's too dangerous, and she's right. Her first Dom, Patrick, is woefully inexperienced, but thankfully, Liam interrupts his little brother's attempts. And that's when Katie locks eyes with the most dangerous man she'll ever meet. Liam is a true Dom, and he wants Katie, perhaps even more than she wants him.
Warning: This title contains hot, steamy nobody-writes-it-like-Selena-Kitt sex between alpha authority figures and their subordinates!
Meingee's Review:
Quiet librarian Katie learns her lesson the hard way. After answering an ad on Craigslist for doing a scene with Patrick she finds herself in a position that she cannot get out of. Lucky for her Liam shows up to stop Patrick from making a terrible mistake. Once Katie meets Liam the sparks fly and the two must decide if they want to attempt a relationship of their own.
Overall I enjoyed this quick read. Liam is a great Dom and a strong man. Katie seems to be a smart woman but her choice of using Craigslist to find a Dom threw me off and put a bump in my enjoyment of this book. Not a safe thing to do in any world even a made up one. I loved seeing the trust and attraction between the two grow into so much more as the story goes on. The sparks fly between Liam and Katie right from the start and they burn up the pages as their relationship grows. Selena Kitt does a great job of bringing the characters vividly to life and pulled this reader into their world right from the very first page. The two make a cute couple and their personalities shine through everything that they do making this not only a hot read but a fun one as well.
--
**Disclaimer: This book has been provided to Coffee Beans & Love Scenes ("CBLS") Reviews free of charge by the author in exchange for an honest review of this title. No money has been exchanged for this review. This review reflects the opinion of the individual reviewer and does not necessarily reflect the opinion of any other CBLS reviewer or this blog's owner, editor or administrator.