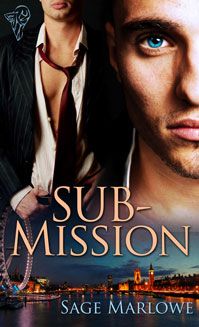 Title:
Sub-Mission
Author:
Sage Marlowe
Publisher:
Total E-bound
Sub-Genre:
GLBT BDSM Romance
Length:
152 Pages
Heat Rating:
Erotic
Rating:
5 Cups
Available at:
Total E-bound
Blurb:
How far would you go to save the one you love?
Pierce Hollister is a down-to-earth businessman. Most of the time. His romantic side has him secretly dreaming of Mr Right, a family and happy ever after.
Noah Conway is a single father who doesn't believe in happy families anymore. When his daughter's life is at stake, he would sell his soul to save her but as a sadistic Dom takes an interest in him, he sells his body instead.
A shared session at a BDSM club leaves Pierce intrigued and soon he finds himself willing to do anything in his power to heal the wounds that life has left on Noah's soul. When he realises that the very thing Noah dreads the most might just be what he needs, Pierce sets out on a mission – but maybe it's just not in his power to save Noah.
Will Noah be able to battle the demons that haunt him and find the happy ever after Pierce has dreamed up for them?
Molly's Review:
Holy cow! I absolutely adored this book by the talented Sage Marlowe! From start to finish, I was engrossed in this book and literally had it finished in one day. The characters among these pages are absolutely full of flaws and complexity. Marlowe blended this sexy men with a plot line that will blow you away. It's not a sappy love story....no, far from it. One of these gorgeous men comes with baggage and a past that will leave you reeling, and one of these men....well he adores the other anyway and wants nothing more than to prove his love.
Noah Conway is a 25 year old single father of a beautiful little girl. Trouble is, she's sick. He'll do anything, no matter what it is, to make the money for an operation. Degrading himself, he accepts money. His job? To be a Dom's play toy, accepting horrible pain and dealing with some terrible things during this time. All he can remember is that his daughter is sick and he's doing this for her. He won't abandoned her for anything.
Pierce Hollister isn't really into the Dom-sub scene but he browses his brother's club from time to time looking for someone he can get cozy with. Then he lays his eyes on the gorgeous Noah. It surprises him to see someone so alpha being submissive to a sadistic Dom. When the fates have him bumping into the sexy Noah again, he's surprised to learn he has a daughter. After the man is gay, right? Noah seems more the type to have an equal relationship rather than the one he saw him in last time, being used and abused by a horrible Dom.
What Pierce learns in his pursuit of the handsome Noah is so much more than he could have imagined. Finding himself falling in love with Noah, he's hurt when he catches Noah cheating on him. Through pain, tears and heartache, Pierce tries to move on. Trouble is, he wants a family and that family he wants is Noah and his daughter Pheobe. When he finds out that Noah has changed his life and moved past the pain of his past, Pierce wants to trust in him again. Can he? Will he find his one true love and family in Noah and his daughter? Or will his Sub-Mission goal be for naught?
I absolutely adored this intense, dark romance book. It's filled with heartache and pain, but it's more than that. It's about finding yourself, letting go and capturing the one thing that you want: love. Through intense devotion and utter support, Pierce is the perfect match for the independent pain filled Noah. This is most definitely a 5 star book that is high on my recommendation list if you are looking a for a m/m romance that will grip you completely!
--
**Disclaimer: This book has been provided to Coffee Beans & Love Scenes ("CBLS") Reviews free of charge by the author in exchange for an honest review of this title. No money has been exchanged for this review. This review reflects the opinion of the individual reviewer and does not necessarily reflect the opinion of any other CBLS reviewer or this blog's owner, editor or administrator.