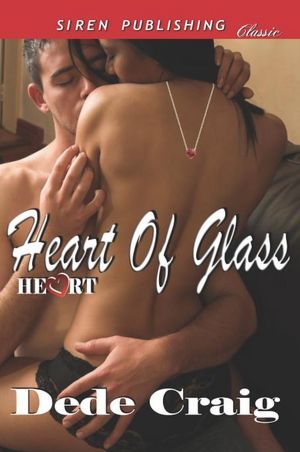 Title:
Heart Of Glass
Author:
Dede Craig
Publisher:
Siren-Bookstrand
Sub-Genre:
Paranormal Romance
Length:
201 pages
Heat Rating:
Erotic
Rating:
5 Books
Available at:
Amazon
|
B&N
|
Siren Bookstrand
Blurb:
Lia Swain didn't intend to be the Glass House's newest exotic dancer with her very own glass booth. Left with millions in debt by her late father and her mother's mounting chemotherapy bills, Lia is forced to strip seductively for the vampire elite, even though she's still a virgin. Buried in problems, she has no room for a man, sex, or love.
Alex Crawford is a sexy Original vampire from one of the wealthiest Strigoi families. He joins the prestigious Glass House and finds himself entranced by the beautiful and mysterious mortal, Lia. His brother was burned by a human mate, and he vowed to never let the same fate befall him. Yet he can't deny the bloodlust he feels for Lia that rouses his inner beast. Her virgin blood compels him, and her sexy essence enslaves him. He vows to make her his.
Sam's Review:
Heart of Glass
is an emotional and sexy story which I found captivating from the first page.
Lia Swain is dealing with her father's bad debts and her mother's medical debts. In order to try and make ends meet she ends up working in the Glass House as an exotic dancer for vampire elite. She's a virgin and is currently one of the most sort after dancers within the house. When Alex Crawford scents her, he knows he wants her for himself. The rest of the story is about their fight to be together with a lot of twists and turns.
Dede Craig has managed to combine vampires, sex, plot and emotion into one of fantastic book. Lia and Alex want each other but his vampire side scares her. What I like is the author showed the fear and lust that Lia felt for Alex. Her feelings toward him were not instant but something that had to be worked on.
Overall I thought this was a brilliant book, well written, with characters you loved reading.
I would highly recommend this book.
--
**Disclaimer: This book has been provided to Coffee Beans & Love Scenes ("CBLS") Reviews free of charge by the author in exchange for an honest review of this title. No money has been exchanged for this review. This review reflects the opinion of the individual reviewer and does not necessarily reflect the opinion of any other CBLS reviewer or this blog's owner, editor or administrator.