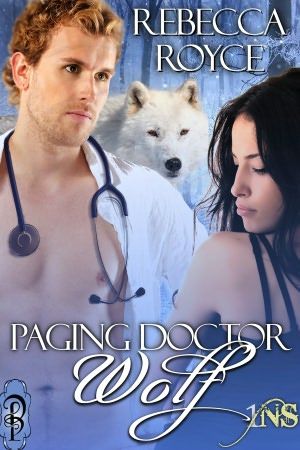 Title:
Paging Doctor Wolf (1Night Stand series)
Author:
Rebecca Royce
Publisher:
Decadent Publishing
Sub-Genre:
Paranormal Romance
Length:
34 pages
Heat Rating:
Erotic
Rating:
5 Cups
Available at:
Amazon
|
B&N
|
Decadent Publishing
|
All Romance eBooks
Blurb:
Trauma surgeon Dr. Dallas Olson is too busy to date. Signing up with Madame Eve's 1Night Stand service seems like a good plan, but his plans are sidelined when he's nearly killed by a wolf attack. While still recovering and dealing with unexplainable side effects, he nevertheless agrees to meet the woman Madame Eve found for him.
Looking forward to her 1Night Stand date, werewolf shifter Cara Johnson is disappointed when it's canceled unexpectedly. When Madame Eve lets her know that the man she should have met has suffered a wolf attack, Cara fears he'll become a rogue werewolf himself during the next full moon. Unless she finds him and brings him home to her pack before that happens, her Alpha will have no choice but to kill him.
With only days left before the full moon, Cara and Dallas meet. He thinks it's a one-night stand. She thinks it's a mission to save his life. Madame Eve has other ideas.
REVIEWERS NAME Review:
I am totally addicted to the 1Night Stand series, and each one holds something uniquely different, yet they are all connected to the mysteriously infamous Madame Evangeline. Rebecca Royce is a phenomenal paranormal romance author and her newest addition to the 1NS series is amazing!
Dr. Dallas Olson...now that is a character to fall in love with! Devoted to his job, he never has time to date. But, he's really wanting to step outside the box and give it a try so he signs up for the infamous 1NS service. But, his plans change when he's suddenly attacked by a wolf. The side affects of the attack aren't what he was expecting. And neither is his date.....
Cara Johnson is saddened to learn that her dates been canceled....until she learns the true reason behind it. Now it's up to her to save her date's life. What she finds out though, is more than she could have ever asked for.......and her mission to save the Doctor's life, just got better.
Madame Eve's services are truly amazing in this series! I love how she knows just who needs who and why. When you add the workings of the talented authors, like Ms. Royce, it combines for wonderful, quick stories to pass the time! If you love sexy passionate doctors, shifting wolves and happily ever afters, then you definitely don't want to miss Rebecca Royce's
Paging Doctor Wolf!
--
**Disclaimer: This book has been provided to Coffee Beans & Love Scenes ("CBLS") Reviews free of charge by the author in exchange for an honest review of this title. No money has been exchanged for this review. This review reflects the opinion of the individual reviewer and does not necessarily reflect the opinion of any other CBLS reviewer or this blog's owner, editor or administrator.