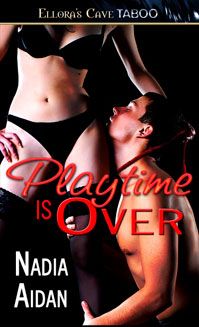 Title:
Playtime Is Over
Author:
Nadia Aidan
Publisher:
Ellora's Cave
Sub-Genre:
Contemporary Romance
Length:
89 pages
Heat Rating:
Erotic
Rating:
4 Cups
Available at:
Amazon
|
B&N
|
Ellora's Cave
|
All Romance eBooks
Blurb:
Book two in the Red Velvet Rope series.
Sonya has been in love with Joshua for the past five years and for just as long he has taken her love for granted. When she confronts him about her needs and discovers he has no intention of pursuing a serious relationship with her, Sonya ends their affair.
Playtime is over.
Brokenhearted, Sonya sheds everything that reminds her of her life with Joshua. In the process she discovers the depths of her true nature and awakens inner sexual yearnings she never knew she possessed, as well as a painful past she thought long buried.
Old hurts and dark secrets cloud Sonya's and Joshua's every interaction, threatening to tear them apart forever. But Joshua refuses to allow Sonya to walk away from him again. She has long held his heart, but now he willingly surrenders his body to her—a sexual Dominant submitting to his submissive. It's something Joshua has never done for any woman, and never Sonya, but he's determined to do anything to win Sonya's love, no matter the cost.
Molly's Review:
Nadia Aidan is a new to me author, and I was excited to review this erotic sounding story. I wasn't dissappointed when I sat down with my reader and started reading. The characters are complex and the story line is believeable. And the cover is amazing!
Joshua has long held Sonya's heart. But, they've not taken their relationship past an affair of sexually erotic encounters. Now Sonya wants more than just a little playtime with the Dominating Joshua. Telling him of her desires though, ends things between them and she's not sure she can handle it.
Joshua has always loved Sonya but he's too domineering for her. She can't submit enough to him and he's afraid for her. When Sonya confronts him of wanting to take things to a more personal level than just playtime, he ends things, but she will still hold his heart.
As Sonya persues a life without Joshua, she finds that things within her aren't what she things. She wants more. And she wants Joshua. But, secrets arise and things change dramatically for the beautiful Sonya. Can she make Joshua understand her true feelings for him and that she wants their playtime to be over? Or will Joshua hide his love for Sonya and let the past take over?
Definitely a great read and one I would read again! If you love that Dom/sub relationship story than this is most definitely for you. A story of true love and submission in all forms, this will move your heart and your soul! Well done, Ms. Aidan!
--
**Disclaimer: This book has been provided to Coffee Beans & Love Scenes ("CBLS") Reviews free of charge by the author in exchange for an honest review of this title. No money has been exchanged for this review. This review reflects the opinion of the individual reviewer and does not necessarily reflect the opinion of any other CBLS reviewer or this blog's owner, editor or administrator.