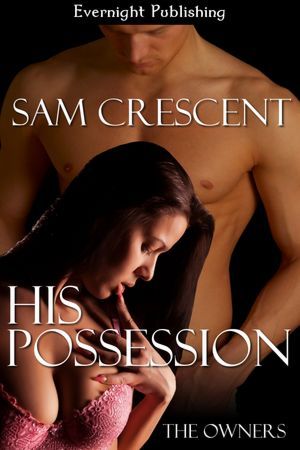 Title:
His Possession
Author:
Sam Crescent
Publisher:
Evernight Publishing
Sub-Genre:
Contemporary Romance
Length:
176 pages
Heat Rating:
Erotic
Rating:
Available at:
Amazon
|
B&N
|
Evernight Publishing
|
All Romance eBooks
Blurb:
The Owners, 1
Cadeon Ashwood is a dominant man who has one problem: he's overly possessive. When he meets Violet Moore for the first time, he knows she is the woman for him. The possessive instinct she stirs within him can only mean one thing—she will be the woman who owns his heart.
Violet is a shy young woman who is trying to make her way in the world, but she has a dark past filled with shame. She is constantly looking over her shoulder.
When Cadeon sees an opportunity to get close to the younger woman, he takes it with everything he's got. She drives him crazy with the way she bows her head, and her innocent blushing makes Cadeon want her more.
For too long she's lived without love and safety. Cadeon offers her everything, but will she live long enough to enjoy it?
Be Warned: light BDSM, spanking.
Molly's Review:
When I sat down to read this, I wasn't sure what to expect. Sure, I knew to expect sizzling hot passion, thigh-clenching sex scenes. But, beyond that, I just didn't know. What I did know, was that I had heard good things about Sam Cresent and was eager to check out the works! So, I jumped on this chance. The result? I really good one! From start to finish I was swept away by the intensity Cadeon possessed. I was in love with him from the start.
Violet is a newbie in Cadeon's office. The minute he sees her, he knows she's his soul-mate. The absolute one for him. Cadeon feels his desire boiling instantly to one of possession, rather than employer to employee. He's vowed to never have a relationship of any kind with his employees. But, after a year of sitting back and watching her, he knows he needs her nearer to him. The perfect opportunity arises when his personal secretary takes maternity leave....and he offers the gorgeous Violet the job.
Violet is shy and unsure of herself around Cadeon. Sure, he's never caused her harm but he intimidates her. She's happy doing what she's doing-passing out mail and coffee-so when he offers her a new position, she bulks at the idea. When she finally gives in, she finds there's more to it than just a new promotion. She can't get enough of the attraction she feels for Cadeon.
But, Violet has a past that is darker than you can imagine. Can Cadeon help her past that and show her a future filled with love? Or will Violet loose her one chance at happiness?
The writing style of Sam Cresent is awesome! I really loved every minute of this book and would read it again and again. The passion is amazing and the characters (all of them!) are chiseled in a wonderful way to blend perfectly with the plot line. Sam Cresent just become an author I've added to my favorites list and I look forward to reading more in this new series of intense sexual proportions!
--
**Disclaimer: This book has been provided to Coffee Beans & Love Scenes ("CBLS") Reviews free of charge by the author in exchange for an honest review of this title. No money has been exchanged for this review. This review reflects the opinion of the individual reviewer and does not necessarily reflect the opinion of any other CBLS reviewer or this blog's owner, editor or administrator.