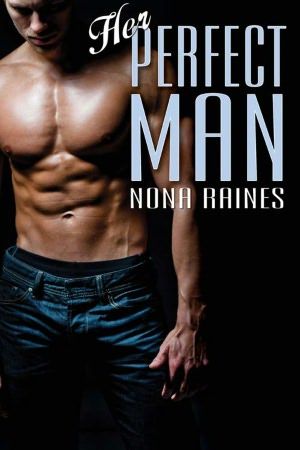 Title:
Her Perfect Man
Author:
Nona Raines
Publisher:
The Wild Rose Press
Sub-Genre:
Contemporary Romance
Length:
201 pages
Heat Rating:
Erotic
Rating:
5 Cups
Available at:
Amazon
|
B&N
|
The Wild Rose Press
|
All Romance eBooks
Blurb:
Kim Hansen has terrible luck with men. When her sexy downstairs neighbor shows a more-than-neighborly interest in her, she's suspicious. She's been burned too many times, by too many guys. Charlie Keller is smart, hot and successful--so what does he want with her besides a few nights of pleasure?
Though Kim does her best to shut him down, Charlie's not put off by her attitude. He doesn't scare easy. Kim thinks she's clever, using sex to keep him off guard and to maintain her emotional distance. But Charlie sees through her prickly exterior to her tender heart beneath.
But Kim needs to be won over. Sure, their bedroom action is awesome, but given her past mistakes, she's convinced that Charlie is too good to be true. Just too perfect. But if Charlie has his way, he'll prove that he's the perfect man for her.
Molly's Review:
Fabulous book! That is the best way to describe this read. This is my first Nona Raines book and it's the third in her
Man
series books. I really want to go back and read books 1 and 2 now, if they are any thing like this hot read! From start to finish, I was completely engrossed in the story and couldn't put it down. I had to know what was happening next to Kim and Charlie. The secondary characters are just as big a role as Kim and Charlie, and really rounded out the book for me.
Kim is a woman who has bad luck with men (I can definitely relate to her on that one!). An ex boyfriend who left her knocked up, and then didn't support her when her parents forced her to "take care of it". Another guy who was kickin' it with her to pass the time until his girlfriend came back around has left her, once again, alone. She's alone until her feisty grumpy cat, Groucho, escapes and she falls into the hands of her sexy-as-sin downstairs neighbor. Literally. She trips and falls down the stairs and he's there to help her up. But, Kim is scared to let him get closer than anything other than sex.
Charlie thinks that Kim is the perfect woman. Sure she's got a rough exterior and scared as all get out, but he knows that deep inside her lies a woman that has a tender heart full of dreams. He wants to be the one to help her accomplish those dreams. There's just one problem. She won't commit to him and trust in him. Sure the sex is great and hot but he wants more from the feisty woman than just a romp in the bed.
Reading this story was so much fun! I loved the laughs that Ms. Raine's incorporated into the story. I found myself more often than not, laughing out loud to Kim's conversations with herself and her grumpy cat. But, I also enjoyed the way that Kim had to learn to trust again, to put her faith in a man that was perfect for her in everyway.
If you are looking for a book that is captivating and filled with steamy scenes, then this is most definitely a highly recommended novel! While it is the third book in Ms. Raines' series, it wasn't confusing in anyway and could definitely be read as a stand-alone title. I can't wait to go back and read the first two books and I am looking forward to reading more of Ms. Raines' work in future releases.
--
**Disclaimer: This book has been provided to Coffee Beans & Love Scenes ("CBLS") Reviews free of charge by the author in exchange for an honest review of this title. No money has been exchanged for this review. This review reflects the opinion of the individual reviewer and does not necessarily reflect the opinion of any other CBLS reviewer or this blog's owner, editor or administrator.