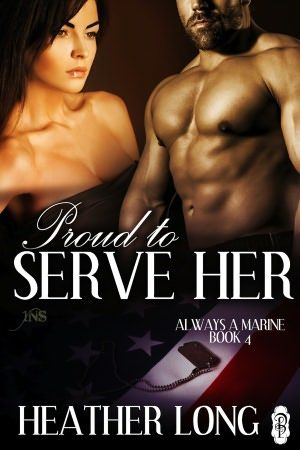 Title:
Proud to Serve Her (1Night Stand series)
Author:
Heather Long
Publisher:
Decadent Publishing
Sub-Genre:
Contemporary Romance
Length:
49 pages
Heat Rating:
Erotic
Rating:
5 Cups
Available at:
Amazon
|
B&N
|
Decadent Publishing
|
All Romance eBooks
Blurb:
Damon Sinclair is a simple Marine with simple needs and after five years of active duty in the sandbox, he's ready to settle down and feed people's souls. But when the rest of his Brothers sign up with the 1Night Stand dating service, the opening night of his new restaurant includes a date with Madame Evangeline's hand picked choice.
Helena Blake has focused her entire life on her education and legal career. But, there must be more to life than legal briefs and the Styrofoam take-out palace decorating the interior of her refrigerator. And finally, a year after signing up for the 1Night Stand service, Eve has found her a date.
Wine is poured, incredible food is served, and sparks fly, creating a total seduction of the senses as Damon prepares a birthday celebration that Helena will never forget.
Molly's Review:
I am a huge fan of Decadent's
1Night Stand
series. Each one is filled with hot, steamy passion and characters to fall in love with. They aren't overly long, but that doesn't take away from the awesomeness that fills each page. Heather Long's
Always A Marine
series of 1Night Stand installments are excellent. I've had the pleasure to read all of her stories in this series and each one, though connected, is uniquely different and captivating.
Proud To Serve Her
is a fun, steamy read. From the start, the attraction between Helena and her "waiter" Damon was sizzling. On a waiting list for a year, she finally got the call that she a match had been found for her. Diving into the 1Night Stand scene, she was running a little late. When she was escorted to the private dining area and approached by her "waiter", she was disappointed when her date didn't show.
Damon knows she's mistaken him for the waiter for the evening. But, he decides to make it a sizzling hot, enjoyable game of telling her about the sensuous foods and wine, and how they should be eaten. Finding out it was Helena's birthday was the icing on the cake. By the end of the dinner, he told her the truth and it just sparked that much more interest in her when she responded so sweetly.
This was most definitely a sweet story that will leave the reader hungry for more. I won't go into anymore than I have above for fear of giving away a spoiler-something I don't do. All I can tell you is that this is a wonderful quick read that is filled with the perfect romantic combination and one sexy Marine! I am anxious to see if Ms. Long has a 5th installment to the series, as there is one Marine I'm dying to know about! Well done on this incredible, highly recommended story, Ms. Long!
--
**Disclaimer: This book has been provided to Coffee Beans & Love Scenes ("CBLS") Reviews free of charge by the author in exchange for an honest review of this title. No money has been exchanged for this review. This review reflects the opinion of the individual reviewer and does not necessarily reflect the opinion of any other CBLS reviewer or this blog's owner, editor or administrator.