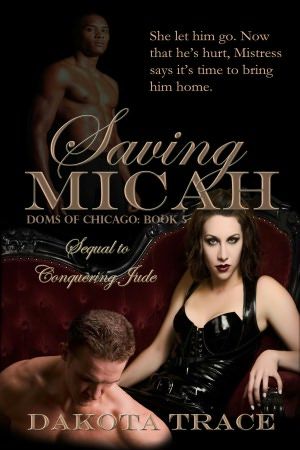 Title:
Saving Micah (Sequel to Conquering Jude)
Author:
Dakota Lee Trace
Publisher:
eXcessica Publishing
Sub-Genre:
BDSM
Length:
200 pages
Heat Rating:
Erotic
Rating:
4.5 Cups
Available at:
Amazon
|
B&N
|
eXcessica Publishing
|
All Romance eBooks
Blurb:
When Micah Beaumont left Chicago for New Orleans, no longer comfortable as a third wheel in his ménage relationship with Mistress Olivia and her sub, Jude, he used his promotion as the excuse to leave. He fled not wanting his Mistress nor Jude to know the real reason. Mistress Olivia had made it clear from the beginning he was nothing more than a play sub. At first he'd been fine with the idea but after watching his Mistress fall in love with Jude, he realized wants to be collared by Olivia too, but knows it will never happen she had Jude.
Three months later, he's settled into his new life in New Orleans. At the height of Mardi Gras, in desperation, he goes home with the wrong Domme in an attempt to forget. The next morning finds him tossed out of car at the entrance to a local hospital barely breathing. When he awakens in the hospital, he's horrified to find both his former Mistress and friend at his bedside. His horror turns into misplaced anger when Olivia calmly announces that its time to come home. How can he return when he's not sure if he can ever submit to her again and if he does how does he go back to being nothing more than their third?
Meingee's Review:
This is a wonderful continuation of the story of Olivia and her men. In this book we get to see what happens to Micah after he leaves Olivia and Jude. Micah believes that he is the third wheel in their relationship and finds himself in the hands of the wrong Domme and her sadistic submissive. The abuse that Micah suffers threatens to damage him forever but Jude and Olivia refuse to let him go and with the help of friends and family they will bring Micah back home with them and show him the love that he deserves.
Once again this author brings us a hot story full of emotions. I was on the edge of my seat throughout this whole book. I love the relationship that these three have formed. They love each other so much and are more than willing to fight for each other no matter what the costs. I also loved revisiting with past characters and seeing everyone join together like a family. Even Jude's old ranger friend and his daughter have a special place in this book. We see this as everyone bands together to help Olivia and Jude protect and help Micah. As the three try to figure out just where their relationship can go from here they must also find out just whom the Domme is that abused Micah and why she is so fixated on him. Olivia and Jude will stop at nothing to show Micah he is loved and wanted. Earning his trust back may be a battle but it is worth everything to them. Their relationship is not full without Micah and they show him that with every fiber of their beings.
The characters in this book come vividly to life making this book is an intense and emotional read that should be in everyone's library.
--
**Disclaimer: This book has been provided to Coffee Beans & Love Scenes ("CBLS") Reviews free of charge by the author in exchange for an honest review of this title. No money has been exchanged for this review. This review reflects the opinion of the individual reviewer and does not necessarily reflect the opinion of any other CBLS reviewer or this blog's owner, editor or administrator.