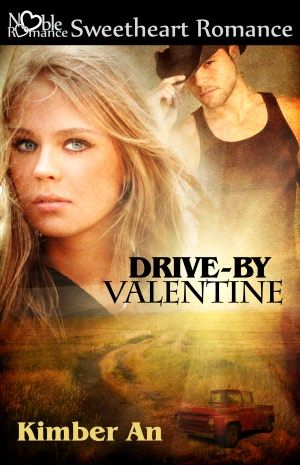 Title:
Drive-By Valentine
Author:
Kimber an
Publisher:
Noble Romance Publishing
Sub-Genre:
Romance
Length:
16 pages
Heat Rating:
Sweet
Rating:
3.5 Cups
Available at:
Amazon
|
B&N
|
Noble Romance
|
All Romance eBooks
Blurb:
Pushing thirty on Valentine's Day, Eve realizes her desperate search for love has led to nothing but misery. Then, she takes a chance on a little old lady who's famous for finding the perfect guy for every girl just by looking at his truck.
CBLS Reviews' Review:
Think
The Mentalist
meets Miss Match Date- this is who Sofia, the owner of a unique shop, in the middle of nowhere is. Psychic? She denies it. Observant is what she prefers. So enter desperate almost 30 year old Eve in search of Mr. Perfect... Sofia is on the case. The slight humor made me smile as I read the dailogue between Sofia and Eve, love when an author can make me smile at the minimum. Picking out a husband by a parking lot full of vehicles? Really? It had me intrigued too...
An's writing style was smooth, consistent and held my interest in this short novel. Love how Eve's mother has run her entire life and now all of a sudden, Eve is cutting the umbilical cord- KUDOS, but what took Eve so long. Love the pretense for this, realism that many readers can appreciate.
Chickens? A labrador? And slashed tire? What do they havein common? True love for Eve.
I absolutely adored this short romance novel and applaud An for her humor, character connections and dialogue. I look forward to reading more works from An.
--
**Disclaimer: This book has been provided to Coffee Beans & Love Scenes ("CBLS") Reviews free of charge by the author in exchange for an honest review of this title. No money has been exchanged for this review. This review reflects the opinion of the individual reviewer and does not necessarily reflect the opinion of any other CBLS reviewer or this blog's owner, editor or administrator.