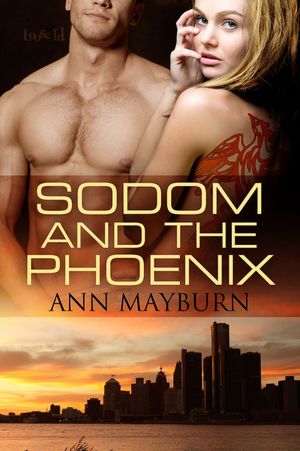 Title: Sodom and the Phoenix
Author: Ann Mayburn
Sub-Genre(s): Fantasy, BDSM, Erotic, Menage
Publisher: Loose ID
Publication Date: January 30, 2012
ISBN #: B0073UVGQM
Format: eBook from Author
Reviewer: tsteinerid
Rating: 5 Cups
Blurb:*
Tanwen Evans has traveled to the Sodom Virtual Reality Resort to re-find her passion. Her twenty-year marriage to her high school sweetheart has recently ended, and with both of her children out of the house she's herself alone for the first time in her adult life. Unwilling to trust her heart to another man, she believes that indulging in some racy virtual reality fantasies will help her find her long-buried sexual side without the messy complications of a relationship. When she arrives at Sodom she discovers she has been booked during the annual 'Leather Kiss' BDSM convention.

Bryan Hamilton just needs to exercise his Mastery, but when runs into Tanwen all of his plans change. With her gentle disposition and her ladylike manners she calls to him like no woman has since the death of his wife. He discovers that she is a natural submissive and begins a campaign to win her heart, which includes joining her in a series of mind-blowing VR adventures.

Tanwen fights her growing attraction to the handsome Master who is supposed to be just a vacation fling. She has to decide what's more important -- protecting her heart or taking a chance on the kind of love she's always dreamed about.
Review:
To kill and maim your best friend or not, that is the question. Tanwen walks into a whole new world the moment she sets foot into the Sodom Virtual Reality Resort in Detroit. A vacation her so called friend set up for her. She will never trust her friend again!
Tanwen needs a kick in the butt. She is recently divorced and needs to start her love life over. After several failed attempts her best friend takes matters into her own hands and sends her to Sodom, unknown to Tanwen, during a BDSM convention. Things are about to get very kinky.
Bryan is a man that has lost his heart. He is unable to recapture the flame and really has no desire to. From the moment he meets Tanwen, his interest is sparked. Then after he inadvertently reads her "grocery list", he plans to make her dreams become more then virtual reality, but the real thing.
During every virtual reality session, Tanwen is learning new and exciting things. She thinks she is protected from falling for Bryan, considering they live miles apart and this is just a weekend fling. The problem is as they delve into make-believe; their hearts don't know the difference. Passion is all around them, but are they brave enough to let go of the past and take a chance?
Ann Mayburn does it again with a book that sizzles up the pages and captures your imagination. She takes you into the world of virtual reality, making you wish you could book your own trip to Sodom Virtual Reality Resort.
The scenes were fresh and new. She has taken the imaginative virtual reality world and applied it to BDSM for refreshingly new experiences. I'd be either frightened or excited if she was the programmer for my fantasies. Well done. You will have to read to see what I mean.
I also want to give high praises to Ms. Mayburn for the execution of the public exhibition scene. This was a first for me and the message was well done. Major kudos to you!
I do have to say I have one complaint and it has nothing at all to do with the story or the author. The cover really bothers me. I know it has no bearing on the story, but darn it publishers, know the story you are doing cover art for. This story is about two 40ish people. There is no way that the two people on the cover are mature adults. Heck, they are barely out of diapers. Ok, enough about my petty complaints.
This is a fun series and a nice change of pace. Sodom and the Phoenix is mucho hot, but tender. That is quite a tantalizing combination. You will never look at fantasies the same way after you experience this whole new world of virtual reality.
Available at:
Amazon (Kindle Edition)
Barnes & Noble (Nook book)
--
*Blurb Courtesy of Amazon
**Disclaimer: This book has been provided to Coffee Beans & Love Scenes Reviews free of charge by the author. No money has been exchanged for the review of this eBook. This review reflects the opinion of the individual reviewer and does not necessarily reflect the opinion of the other C&R reviewers or this blog's administrator/editor.