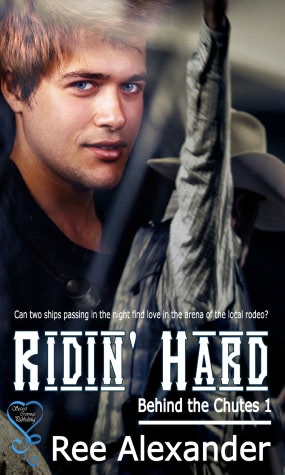 Title: Ridin' Hard
Author: Ree Alexander
Sub-Genre(s): Gay, Erotic
Publisher: Secret Cravings Publishing
Publication Date: February 9, 2012
ISBN #: B0077TH1OU
Format: eBook from Author
Reviewer: Brynn
Rating: 4 Cups
Blurb:*
Bullrider and all around hunk, Mitchell Sorenson is seeing stars and not the good kind. After taking a hoof to the skull from a randy bull, he wakes up in the back of an ambulance to the most amazing set of blue eyes he's ever seen.
Kyle Matthews is a huge fan so when he'd working his shift as a paramedic during the rodeo and has to care for his bullriding idol, he's in awe. Training kicks in when Mitchell is disoriented, but can he put aside his own feelings for the sexy bullrider to tend to his wounds?
Can two ships passing in the night find love in the arena of the local rodeo?
Review:
Alexander has written a fabulous story of two men brought together when they least expected it. Mitchell, the bull-rider, and Kyle, the paramedic, who helped him after a concussion is well-written and a complete love story from the get-go.
The story plays out well, slow and easy but yet at the perfect pace to keep my interest. She did a fabulous job creating each character, their pasts and then entwines them together with a simple offering from Kyle for Mitchell to use his washer/dryer- what a sly move! Like most ladies, we all have a craving for cowboys, I am no exception and Alexander has sold me on her writing style. I did have a few chuckles throughout the story (when the nurse ripped off Mitchell's bandages and tape*ouch* and when the guys were sitting around drinking beer after their first session fo making love and Kyle blatantly says, so what happens next?" I laughed out loud. Such a simple question but it tickled me.
Alexander, a new author to me, spoke to me in her dialogue between the two men. I look forward to finding more of Alexander's work in the near future- she is one author to watch.
Available at:
Amazon (Kindle Edition)
Barnes & Noble (Nook book)
--
*Blurb Courtesy of Amazon
**Disclaimer: This book has been provided to Coffee Beans & Love Scenes Reviews free of charge by the author. No money has been exchanged for the review of this eBook. This review reflects the opinion of the individual reviewer and does not necessarily reflect the opinion of the other C&R reviewers or this blog's administrator/editor.