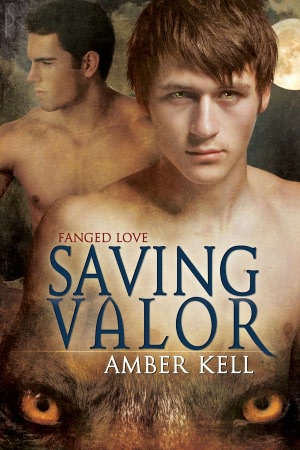 Title: Saving Valor
Author: Amber Kell
Sub-Genre(s): Gay, Erotic, Fantasy
Publisher: Silver Publishing
Publication Date: January 13, 2012
ISBN #: B006XJ8DYW
Format: eBook from Author
Reviewer: pechedete
Rating: 4 Cups
Blurb:*
While at a kennel purchasing guard dogs, Valor discovers a shifter who pleads for release. Intrigued, the master vampire pays to free the werehound, unaware his moment of compassion will change his life.

Caden's goal is to get as far away from the area as possible. His brother's pack beat him and left him for dead, and he needs to put distance between them before Jameson realizes he's still alive and comes after him again. Little does he realize the vampire who freed him has other intentions.
Review:
Valor has taken the unusual task for someone in his position of finding his own guard dogs. Valor is a two-thousand-year-old master vampire whose duty is to protect his tribe; however, because of increased danger from the hunters Valor wants to ensure the tribe's safety. While at the pound, he stumbles across a werehound in shifted form. Valor doesn't realize that saving the spoiled shifter is going to change is life.
Caden and Valor have a dynamic relationship. It was amazing the calming effect Caden had on Valor from their first meeting. While Caden was more than capable of taking care of himself, Valor felt it was his duty to do so and made no bones about it. I also loved that like any good alpha male, Valor was highly possessive of Caden. I was pleasantly surprised by the tribe member who had it in for Valor. I can honestly say I didn't see that one coming.
Saving Valor is an enjoyable read that's full of action and a sweet romance. It is definitely worth taking the time to read.Saving Valor is the first book in the Fanged Love series.
Available at:
Amazon (Kindle Edition)
--
*Blurb Courtesy of Amazon
**Disclaimer: This book has been provided to Coffee Beans & Love Scenes Reviews free of charge by the author. No money has been exchanged for the review of this eBook. This review reflects the opinion of the individual reviewer and does not necessarily reflect the opinion of the other C&R reviewers or this blog's administrator/editor.