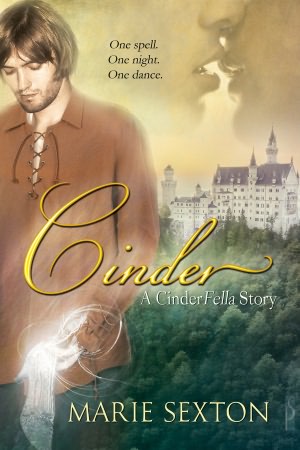 Title: Cinder
Author: Marie Sexton
Sub-Genre(s): Gay, Erotic, Fairy Tale
Publisher: Silver Publishing
Publication Date: February 3, 2012
ISBN #: B0075FVW1E
Format: eBook from Author
Reviewer: pechedete
Rating: 4.5 Cups
Blurb:*
A CinderFella story--it's all fun and games until somebody loses a shoe...

Eldon Cinder would give anything to see Prince Xavier one last time, but only women are invited to the royal ball. When the local witch offers to make Eldon female for just one night, he agrees.

One spell. One night. One dance.

What could possibly go wrong?
Review:
Eldon Cinder was the only child of a beautiful maiden and a handsome knight. His parents were killed in a fire leaving Eldon at the mercy of his Aunt Deirdre. Since Eldon is perceived as a burden, he isn't treated as a member of the family. While Eldon takes this in stride, his fortunes are destined to change when he meets the man of his dreams.
Prince Xavier is being forced to marry in order to be named Crown Prince. If he does not take a bride within two weeks, he will be forced to give up every thing. This poses all sorts of problems, especially since he doesn't want a bride. When he meets a remarkable girl at the ball for all of the town's eligible ladies, he thinks his luck has changed. He can't help but think that she reminds him of someone he knows and cares a great deal for.
I love stories based on fairy tales I especially loved Cinder. It reminds me so much of the movieEver After, which is my favorite Cinderella based movie. Eldon and Xavier were perfect for one another. Xavier was looking for someone who wanted "Xavier" and not the "Prince."While Eldon didn't have any real expectations, the reader is left feeling that he did want to be loved and accepted. Both men valued the friendship that they built in the days leading up to the ball and their time spent together meant the world to them.
Cinder was a sweet read. If you're looking for a different twist on a classic fairy tale, look no further than Marie Sexton's Cinder.
Available at:
Amazon (Kindle Edition)
Barnes & Noble (Nook book)
--
*Blurb Courtesy of Amazon
**Disclaimer: This book has been provided to Coffee Beans & Love Scenes Reviews free of charge by the author. No money has been exchanged for the review of this eBook. This review reflects the opinion of the individual reviewer and does not necessarily reflect the opinion of the other C&R reviewers or this blog's administrator/editor.