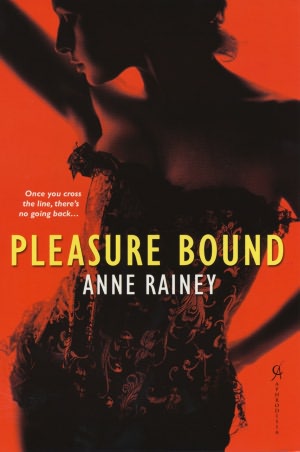 Title: Pleasure Bound
Author: Anne Rainey
Sub-Genre(s): Erotic, Contemporary
Publisher: Aphrodisia
Publication Date: October 25, 2011
ISBN #: 978-0758269027
Format: eBook from Author
Reviewer: Sam
Rating: 4.5 Cups
Blurb:*
With his sexy smile and rock-hard body, P.I. Jonas Phoenix is used to having women flock to his bed. But these days there's only one woman Jonas wants-and she won't give him the time of day.

Deanna Harrison knows she can't fight her attraction to Jonas forever, but she's looking for more than a fling. So Jonas issues Deanna a challenge:  give him one weekend at his Miami beach house to win her over. No strings attached. No limitations.

Once in Miami, the sexual tension erupts as Deanna finally lets go-and lets Jonas pleasure her in ways she's only dreamed of. But while their bond grows stronger, danger lurks close by-and it could be deadly for them both...
Review:
Pleasure Bound was amazing. I haven't read the first book in this series but I can tell you, you really don't need it.   
This book starts where Jonas Phoenix first meets Deanna Harrison. His best friend's youngest sister. When these two got on the screen, the action soon started to pick up. Deanna refuses Jonas at every turn. She doesn't want to be another notch on his bed post. Even though she wants him desperately. Jonas doesn't give up and keeps on asking her out. After some time he challenges her. She is to spend one weekend alone with him at his beach house in Miami and he'll prove to her he wants more than sex. When they're alone, the pages soon heat up.   
Jonas and Deanna are a magical couple. I like how Deanna fights him and it takes time before she's willing to give herself to him. This is a book where the hero knows he has feelings for the heroine but it is about her accepting him as a changed man.   
I like the way her twin brother sticks around and doesn't like her getting hurt. All round this is a real page turner and a wonderful charming read.
Available at:
Amazon (Kindle Edition)
Barnes & Noble (Nook book)
--
*Blurb Courtesy of Amazon
**Disclaimer: This book has been provided to Coffee Beans & Love Scenes Reviews free of charge by the author. No money has been exchanged for the review of this eBook. This review reflects the opinion of the individual reviewer and does not necessarily reflect the opinion of the other C&R reviewers or this blog's administrator/editor.