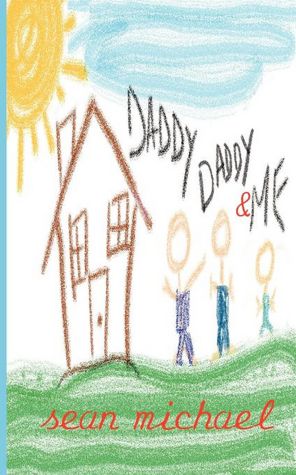 Title: Daddy, Daddy and Me
Author: Sean Michael
Sub-Genre(s): Erotic, Menage, BDSM
Publisher: Torquere Press
Publication Date: December 14, 2011
ISBN #: 978-1610407236
Format: eBook from Author
Reviewer: pechedete
Rating: 4.5 Cups
Blurb:*
When Jeff agreed to be the sperm donor to his best friend Beth, he never expected a tragedy to leave his newborn and three year old motherless. That's exactly what's happened, though, and it's totally thrown his life into chaos: his lover has left him, his house isn't anywhere near childproof and his boss feels the restaurant has been patient enough with the time off. Donny has always known he wanted to be in childcare, and he just finished his degree in early childhood education. He didn't count on people being less than thrilled to hire him when they find out that not only is he a male nanny, but a gay one at that. Job hunting has been frustrating to say the least, so when he knocks on Jeff's door and is greeted by the sounds of things breaking and a pair of screaming children, he thinks, just maybe, he can begin this particular interview with a trial by fire. Becoming the nanny to Jeff's children just might be a dream come true for Danny, and exactly what Jeff needs, but are either one of them ready to really be a family?
Review:
Donald Gleason shows up for his three o'clock nanny interview and is met by chaos.  Jeff Roberts is struggling with being a full time dad to three-year-old Robin and three-month-old Kimberly.  Their mother is recently deceased and his partner walked out on him because he didn't want to be a parent.  He needs help, but hiring a male nanny isn't exactly what he had in mind.  However, Donny passes his trial by fire with flying colors.  Jeff is comfortable letting Donny take care of his kids, now he just has to fight his growing attraction for the younger man.
Daddy, Daddy & Me was a great story filled with all the things I love – well written characters, a despicable villain, and a fluid romance.  The relationship between Jeff and Donny didn't feel rushed; it flowed naturally even though they got together very quickly.  The only thing I didn't like was Jeff's reaction to an unexpected loss, but Donny helped him see what was truly important.  I couldn't help but to love these guys together and enjoyed the ease in which Donny stepped into the lives of Jeff and the children.
Lately, I've been reading a lot of M/M nanny stories and loving them and Sean Michaels' Daddy, Daddy & Me did not disappoint.  This was the first story by Mr. Michaels that I've read and I wouldn't hesitate to read more of his work.
Available at:
Amazon (Kindle Edition)
Barnes & Noble (Nook book)
--
*Blurb Courtesy of Amazon
**Disclaimer: This book has been provided to Coffee Beans & Love Scenes Reviews free of charge by the author. No money has been exchanged for the review of this eBook. This review reflects the opinion of the individual reviewer and does not necessarily reflect the opinion of the other C&R reviewers or this blog's administrator/editor.