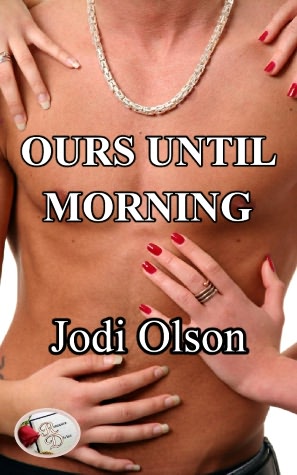 Title: Ours Until Morning
Author: Jodi Olson
Sub-Genre(s): Erotic, Menage
Publisher: Romance Divine
Publication Date: February 10, 2012
ISBN #: B0076EHKF6
Format: eBook from Author
Reviewer: Dawne
Rating: 4 Cups
Blurb:*
Gage and the love of his life, Andi, planned their romantic get-away to an ocean-side resort. When Andi invites her friend, Kaitlin along, it becomes a question of 'who' desires Kaitlin more: Gage or Andi? Can friends become lovers? Can they share? Will Gage and Andi make Kaitlin Ours Until Morning?
Review:
Once again Ms. Olson does a superb writing job of creating characters and as story line to please every aspect of an erotic mind. Gage and Andi seem to be the perfect couple but add in Kaitlin and WHOA! You have one hot menage starting to take place.
The way Olson weaves the introduction of Gage and Kaitlin is priceless. The dialogue is well-crafted and the ease of the plot is believable. This is the way in real life a menage should be... friends becoming lovers and unconditional love ensues, animosity is left at the door and how Olson blends the trio is outstanding.
Ours Until Morning is a classic in the making and one to treasure for every menage and erotic romance reader. Highly recommended. Grab a glass of wine, your favorite blanket and settle in for a treat with Olson's newest release.
Available at:
Amazon (Kindle Edition)
Barnes & Noble (Nook book)
--
*Blurb Courtesy of Amazon
**Disclaimer: This book has been provided to Coffee Beans & Love Scenes Reviews free of charge by the author. No money has been exchanged for the review of this eBook. This review reflects the opinion of the individual reviewer and does not necessarily reflect the opinion of the other C&R reviewers or this blog's administrator/editor.