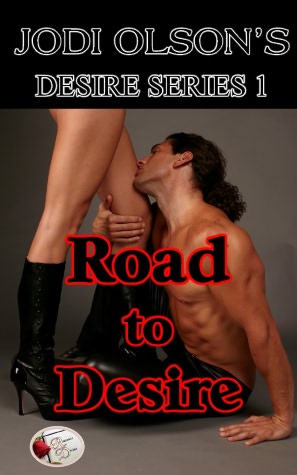 Title: Road To Desire: Desire Series 1
Author: Jodi Olson
Sub-Genre(s): Erotic, Contemporary, BDSM
Publisher: Romance Divine
Publication Date: February 10, 2012
ISBN #: B0076EHL0A
Format: eBook from Author
Reviewer: Dawne
Rating: 4 Cups
Blurb:*
Matthew had a fantasy about submitting to his wife Samantha; to be Her adoring and worshipful slave, doing Her bidding, suffering Her torments and pleasures. What will happen when this hunky construction worker gets his wish, when he is forced to his knees and used as a sex toy? It's a kinky affair when a loving couple starts down the Road to Desire.
Review:
Not one for BDSM, not matter how soft, light or hard, I was remarkably surprised at my reaction to Road To Desire. Olson created a nice balance between BDSM, the unknown of pleasure and a connection within the relationship between Matthew and Samantha that made me crave more.
Olson has a way of drawing readers into her storytelling, feel for the characters and want more. I love the way she built the characters interactions and made this a real believable plot. Some times BDSM stories are all about sex and the DOM/SUB but Olson dove deeper and made this an enjoyable read.
Available at:
Amazon (Kindle Edition)
Barnes & Noble (Nook book)
--
*Blurb Courtesy of Amazon
**Disclaimer: This book has been provided to Coffee Beans & Love Scenes Reviews free of charge by the author. No money has been exchanged for the review of this eBook. This review reflects the opinion of the individual reviewer and does not necessarily reflect the opinion of the other C&R reviewers or this blog's administrator/editor.