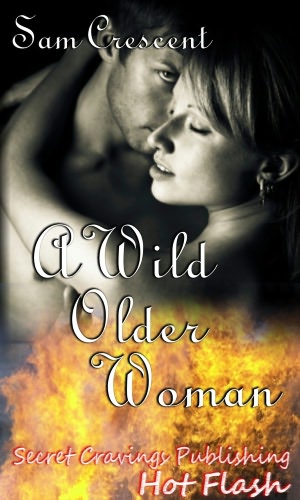 Title: A Wild Older Woman
Author: Sam Crescent
Sub-Genre(s): Erotic, Cougar, Contemporary
Publisher: Secret Cravings Publishing
Publication Date: September 30, 2011
ISBN #: B005RZPQBQ
Format: eBook from Author
Reviewer: Brynn
Rating: 4 Cups
Blurb:*
Do younger men treat a woman better? At least that is what Karen Wild is about to find out. This forty years old, divorced mother of two children is about to find out what being a cougar is all about. She believed she could battle anything that came her way...that is until Nick Marshall entered her life.

She never anticipated Nick, thirteen years her junior, being interested in her. He's hot and he wants Karen all to himself.

Join this cougar as she learns to accept her sexuality and finally learns what it means to love and how a younger man can melt the years away.
Review:
Crescent does it again... this is the second of Crescent's books I have had the pleasure of reading recently and I have to say, she out-did herself on this cougar-esque love story. Young Nick and Karen Wild weren't expecting what they encountered at the office (don't we all wish we could have such an office romance that flourishes into more).  
Crescent has Nick's, blunt and to t he point, attitude and sexual cravings of Karen down to a T. I love how she develops the characters, grows their attraction and eventually, slams them together.  *Claps hands* Love those kind of moments.  
Crescent's writing style carries through on this novel (as she really hooked me in on one of her earlier writings). The tenderness (in his own way) that Nick shows his pre-love for Karen is found in his dislike for Karen's ex-husband and the way he treated her. Every woman needs a man like Nick (for ego boosts and...*cough* everything else*.   
I look forward to more books by Crescent as she never ceases to amaze me with her storytelling abilities. I definitely recommend A Wild Older Woman to the ladies looking for a fast paced love story, and to show, older woman are HOT.
Available at:
Amazon (Kindle Edition)
Barnes & Noble (Nook book)
--
*Blurb Courtesy of Amazon
**Disclaimer: This book has been provided to Coffee Beans & Love Scenes Reviews free of charge by the author. No money has been exchanged for the review of this eBook. This review reflects the opinion of the individual reviewer and does not necessarily reflect the opinion of the other C&R reviewers or this blog's administrator/editor.