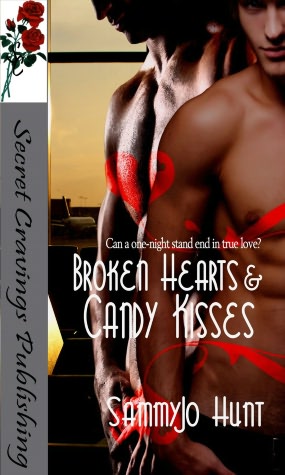 Title: Broken Hearts and Candy Kisses
Author: Sammy Jo Hunt
Sub-Genre(s): Erotic, Contemporary, GLBT
Publisher: Secret Cravings Publishing
Publication Date: January 26, 2012
ISBN #: B0072LH8IW
Format: eBook from Author
Reviewer: Brynn
Rating: 3.5 Cups
Blurb:*
Left alone and desolate the day before Valentine's Day, Kevin's bad luck at love has just struck again. Deserted at the boarding gate by the man he thought was his lifetime partner, his struggling self-esteem takes a low blow for the worst. Overcome by grief in the unlikeliest of places, his moment of tears and sadness is interrupted by "Mr. Tall, Dark & Handsome."



Consumed by sudden passion born of desperation and desire, his chance meeting with the intriguing man breathes hope into his shattered dreams. Seared inside and out by the heat of his lover's haunting blue eyes, their hot one-night stand could be the true love he's searched a lifetime for. Or he may be destined to live an empty life without the one thing his heart desires. Only time will tell, in Broken Hearts & Candy Kisses.
Review:
Hunt really makes you feel for Kevin- the broken heart from the first sentence of this novel- you can empathize with him. The emotions are spelled out so quick, you can't help but grasp the heartbreak.   
Then in the middle of LAX... in walks Brett.- his Knight in Shining Armor comes to the rescue.  
While this is a fast-paced novel, Hunt captures tenderness, compassion and... love. Her writing style is fabulous, creative and one to watch in the future. I can see Hunt going places in the industry. She has a talent for weaving believable character connection, story lines and dialogue. 
While Kevin is expecting a one-night, pick up in the bar kind of sex affair to drown his broken heart, Brett has something else in mind. Do not miss this one! A definite keeper!
Available at:
Amazon (Kindle Edition)
Barnes & Noble (Nook book)
--
*Blurb Courtesy of Amazon
**Disclaimer: This book has been provided to Coffee Beans & Love Scenes Reviews free of charge by the author. No money has been exchanged for the review of this eBook. This review reflects the opinion of the individual reviewer and does not necessarily reflect the opinion of the other C&R reviewers or this blog's administrator/editor.