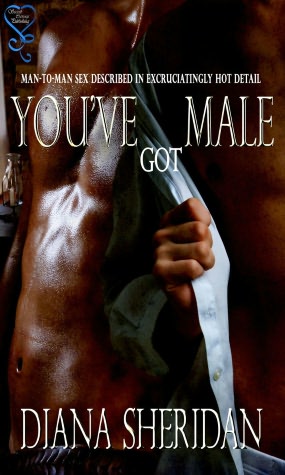 Title: You Got Male
Author: Diana Sheridan
Sub-Genre(s): Erotic, GLBT
Publisher: Secret Cravings Publishing
Publication Date: December 9, 2011
ISBN #: B006K8MGGC
Format: eBook from Author
Reviewer: Brynn
Rating: 3.5 Cups
Blurb:*
Can an online hook up turn into something more?

Find out as one gay male runs into novices online and helps initiate them into male on male sex in sexy detail
Review:
Sheridan describes a relationship evolving from a simple conversation about opera online. Ryan, the recipient of the story-tellers' (first person written) tale, wasn't sure if he was gay, bi or neither. But once in the bedroom, Ryan proved himself. 
The innuendos, the comparisons and Ryan's exclamation as soon as the deed was done (Can we exchange hotmails?) made me chuckle. This is a light-hearted M/M romance...then you add in Kevin. Another conquer of the story-teller.
Sheridan has a way of telling a story... developing a slight connection and even making the scenes vivid, descriptive and fun. This is a short and fast paced novel with many elements to make a successful read. I thoroughly enjoyed the novel and look forward to more writings of Sheridan.
Available at:
Amazon (Kindle Edition)
Barnes & Noble (Nook book)
--
*Blurb Courtesy of Amazon
**Disclaimer: This book has been provided to Coffee Beans & Love Scenes Reviews free of charge by the author. No money has been exchanged for the review of this eBook. This review reflects the opinion of the individual reviewer and does not necessarily reflect the opinion of the other C&R reviewers or this blog's administrator/editor.