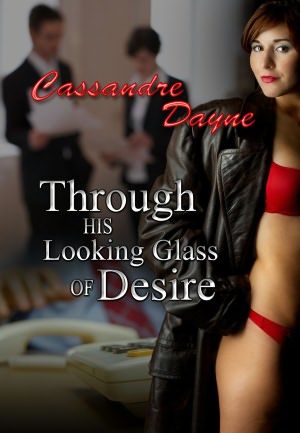 Title:
Through His Looking Glass Of Desire
Author:
Cassandra Dayne
Publisher:
Rebel Ink Press
Sub-Genre:
Contemporary Romance
Length:
67 pages
Heat Rating:
Erotic
Rating:
5 Cups
Available at:
Amazon
|
Rebel Ink Press
|
ARe
|
B&N
Blurb:
Raven Harrington had a terrible feeling her marriage was over. Her gorgeous husband had no interest in being friends any longer, let alone rekindling the passion they used to share. For years they'd been the wild and kinky couple. Into S & M, sinful locations and naughty sessions of voyeurism that almost landed them behind bars more than one, for years they'd been the wild and kinky couple. But sadly, when Josh made partner at his law firm, everything changed. And Raven was determined to kick start their marriage and their sex life before it was too late.
Developing a nefarious plan, Raven threw caution to the wind. Donning fiery red underwear, a trench coat and leopard print stilettos--Raven made her way to Josh's office with one goal, to give him a piece of her body. Shocked but intrigued, the sexy blowjob under his desk while his coworkers came and went seemed to send his body into overdrive. And when his two colleagues witnessed Raven's shameless act, their own savage desires exploded. Unfortunately, Devastated, she almost pulled the plug on the rest of her plan.
Yet Josh was ready to give her more. When he took her to a rented room then tied her naked body to the metal railing while two hungry men on the balcony above witnessed their actions, their intense cravings took them to a molten edge of passion. But standing in the way was the truth and neither knew if their love, or their marriage could survive.
Michelle's Review:
Through His Looking Glass of Desire
by Cassandre Dayne is a beautiful story of a woman who has decided to throw caution to the wind and go to extreme measures to save her marriage.
Josh and Raven used to be crazy in love with a wild and passionate sex life. After years of marriage they have drifted apart and barely even acknowledge each other anymore. Raven senses that she is about to lose her husband for good and makes up her mind to get back what they once had.
This is an outstanding story and I give it a rating of 5 out of 5. The writing is superb with realistic characters that I loved and could easily relate to. I was completely hooked from the very start and could not put it down until the very end. It's a short story and only about 67 pages, so I was able to read it in one sitting.
This is a scorching hot erotic story that just might melt your e-reader, but it will also melt your heart. It's a magnificent blend of sweet and hot, full of both burning passion and tender romance. It's also a story that will speak to a lot of people's hearts with a story that resonates so true to real life.
Cassandre Dayne is a very talented author who writes a wide variety of genres. This particular story is erotic romance in the true sense of the word. The sexy scenes are just a part of these characters' story, and it is the story and the characters that will captivate and engage you. I loved every minute from start to finish and I hated to say good-bye to these wonderful characters when I reached the end. If you enjoy erotic romance, this is one you won't want to miss.
--
**Disclaimer: This book has been provided to Coffee Beans & Love Scenes ("CBLS") Reviews free of charge by the author in exchange for an honest review of this title. No money has been exchanged for this review. This review reflects the opinion of the individual reviewer and does not necessarily reflect the opinion of any other CBLS reviewer or this blog's owner, editor or administrator.