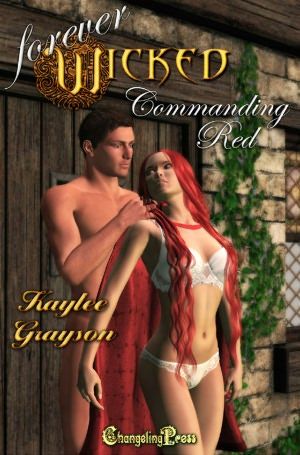 Title:
Commanding Red
Author:
Kaylee Grayson
Series:
Forever Wicked series, #3
Publisher:
Changeling Press, LLC
Sub-Genre:
Paranormal Romance
Length:
42 pages
Heat Rating:
Erotic
Rating:
4.5 Cups
Available at:
Amazon
|
Changling Press,LLC
|
ARe
|
B&N
Blurb:
It should have been just another ordinary stroll through the woods for Red, but when she finds a wounded wolf by the edge of the road, she can't help but stop. Her kind, gentle heart ensures she won't let a creature suffer, no matter how dangerous it is. But healing the animal's wounds has unexpected consequences, and she's shocked as she watches it transform from a vicious beast into a man she once knew.
Jonah isn't sure she shouldn't have just let him die. His curse has turned him into a monster, and his unnatural hunger makes him something less than human. Red is in danger as long as he's around, but he can't bring himself to leave her without teaching her a thing or two about the perils of rescuing strays.
His lessons are erotic, punishing, and intense. But the biggest threat he poses isn't to Red's body... it's to her heart.
Gabrielle's Review:
Kaylee Grayson gives readers a whole new look at Red and her famous cloak with this book. This story takes Red on a different journey. I love fairytales and have always wondered about the what ifs and in this story we get a great what if. Wolves and huntsmen are still enemies but in this world wolves are so much more and Red has found a way to tame her wolf. I enjoyed watching the relationship blossom between Red and her wolf. The emotions are high and the love that the two share is strong. Jonah is so full of love but afraid that he will hurt anyone who is close to him, but Red is more than willing to risk it all on their love. I enjoyed watching Red show Jonah that their love is something worth fighting for. She gives herself over to Jonah fully and willingly and Jonah can do no more than love her even more. He begins this journey with the idea of teaching Red a lesson but it looks as if she is the one with the lesson to teach. This was a wonderful read and great start to a new series. I cannot wait to see how this story will continue.
--
**Disclaimer: This book has been provided to Coffee Beans & Love Scenes ("CBLS") Reviews free of charge by the author in exchange for an honest review of this title. No money has been exchanged for this review. This review reflects the opinion of the individual reviewer and does not necessarily reflect the opinion of any other CBLS reviewer or this blog's owner, editor or administrator.