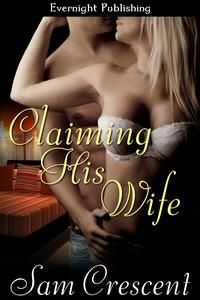 Title:
Claiming His Wife
Author:
Sam Crescent
Publisher:
Evernight Publishing
Sub-Genre:
Contemporary Romance
Length:
111 pages
Heat Rating:
Erotic
Rating:
4 Cups
Available at:
Amazon
|
B&N
|
Evernight Publishing
|
All Romance eBooks
Blurb:
Opal Shaw has loved Tony Hunt for as long as she can remember. However, he is older than her and her brother's best friend.
Two years have passed since he saved her from a loveless marriage. When she catches sight of an article comparing her to one of his women, Opal knows it's time to bring their marriage to an end.
Slapped with divorce papers, Tony refuses to sign them. He has stayed away from his wife because of his own demons. Tony wants a second chance to prove their marriage was meant to be.
Tony Hunt will not take no for an answer. No one is going to stop him from claiming his wife.
Emma205's Review:
Claiming His Wife is the third in the Unlikely Lovers series and my personal favorite. Full of sizzling sex and taut emotion, the story follows Opal and Tony as they navigate the disaster that is their marriage. I love these two and it was easy to become very attached to them. Opal comes across very naive but her upbringing explains much of that. Tony is haunted by his past and has let it rule his entire adult life. As with previous two stories, the hero can be an arrogant jerk but his feelings are clear. Opal gains a true sense of herself and it very nice to see. The author continues to write very erotic and sexy love scenes. Although these scenes are detailed and hot, it's the love and adoration between the characters that's so very memorable. It was also great to visit with Wayne, Lily, Richard and Scarlet. A wonderful story that I highly recommend. Do start with the first one though!
Tony married his best friend's little sister to save her from an arranged marriage or so he said. Opal has loved Tony for as long as she can remember but she knows she's not his type. Their marriage was in name only and Opal was tired of the half-life she was living. When she decides to divorce Tony, he knows his time has run out. It's now or never. He plans to show Opal just exactly how much he wants her.
--
**Disclaimer: This book has been provided to Coffee Beans & Love Scenes ("CBLS") Reviews free of charge by the author in exchange for an honest review of this title. No money has been exchanged for this review. This review reflects the opinion of the individual reviewer and does not necessarily reflect the opinion of any other CBLS reviewer or this blog's owner, editor or administrator.