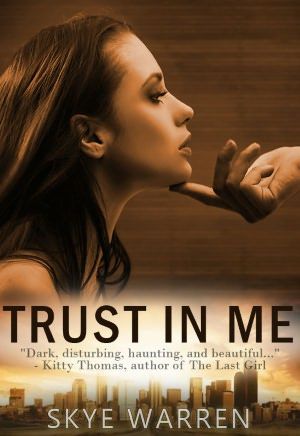 Title:
Trust In Me
Author:
Skye Warren
Publisher:
self published
Sub-Genre:
Erotic Suspense
Length:
125 pages
Heat Rating:
Erotic
Rating:
4.5 Cups
Available at:
Amazon
|
B&N
|
All Romance eBooks
Blurb:
Mia longs for the daily torture to end, but one last task keeps her holding on. In a betrayal of the crime lord who pulled her from the gutter, she'll free the shipment of human cargo, and if she's lucky, die in the process. The alternative is unfathomable, even to a woman well-versed in erotic torture. But luck abandons her yet again when she meets the security expert in charge of the shipment and finds herself face to face with her childhood crush. The man she once begged for help. The man who failed her.
Tyler Martinez is an undercover FBI agent with one chance to right the wrongs of his past. Thrust deep into the seedy world of human trafficking, he must put aside his guilt over abandoning Mia all those years ago in order to save her now.
Someone's pulling the strings in this sadistic play on trust, but Tyler and Mia may not live long enough to see the curtain fall. Trust in Me is a story of erotic pain and incipient romance, spiraling ever faster toward betrayal or redemption.
WARNING: This book contains explicit scenes of dubious consent, graphic violence and sex. It also depicts abuse and captivity situations. Not appropriate for anyone uncomfortable with these situations or anyone under the age of eighteen. This is a work of fiction.
Sam's Review:
Be warned,
Trust in Me
is not for the faint of heart.
Mia considers herself a whore. A woman who's stumbled into the human trafficking and considers herself lucky to have a one man owner. Her master demands everything from her and passes her around whenever it suits him. She wants to break him and if she dies in the process she considers it a bonus until Tyler Martinez enters the scene. This is the first guy she had a crush on before her life was turned upside down.
I don't want to spoil anymore of the plot but I will say once you start you're going to struggle to put it down. Even when parts make you a little uncomfortable, you still have to keep reading to see what happens next. Skye Warren has created a roller coaster ride of emotions that leaves nothing to the imagination. This is a hard hitting story told through the eyes of Mia. At times it's scary and makes you feel as if you're with her during the story.
Certainly a well written piece and one that will stay with you.
--
**Disclaimer: This book has been provided to Coffee Beans & Love Scenes ("CBLS") Reviews free of charge by the author in exchange for an honest review of this title. No money has been exchanged for this review. This review reflects the opinion of the individual reviewer and does not necessarily reflect the opinion of any other CBLS reviewer or this blog's owner, editor or administrator.