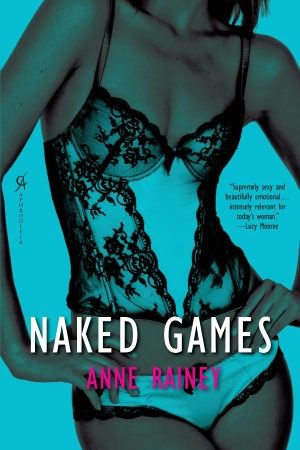 Title:
Naked Games
Author:
Anne Rainey
Publisher:
Kensington Aphrodisia
Sub-Genre:
Contemporary Romance
Length:
256 pages
Heat Rating:
Erotic
Rating:
4.5 Cups
Available at:
Amazon
|
B&N
|
Kensington Aphrodisia
|
All Romance eBooks
Blurb:
Anticipation…
When Catherine Michaels tracks down her long lost sister, Gracie, after a desperate search, she's thrilled to find her alive and well. But there's also an unexpected bonus—Gracie's sexy and single friend, Dean.
Ecstasy…
Dean is every woman's fantasy, ruggedly handsome, intense, and as Catherine discovers, a passionately adventurous lover. But his all night appetite has a dark side. For though Catherine longs to give up all control, Dean drives her even further…demanding she learn the real art of submission.
Surrender…
Catherine is having the best sex of her life, opening herself to a surprising new realm of pleasure. And Dean unexpectedly starts to feel he's met his match…maybe even his soul mate. When they both want more, it gets complicated. Is it game over—or are things just heating up...?
Sam's Review:
Anne Rainey has done it again and created a wonderful story with love, intrigue and lots of hot steamy sex.
This story picks up where
Pleasure Bound
finished with Gracie finding out she had a sister. Catherine has been told she was adopted and sets out to find the sister she never knew about. When she goes to meet her sister she encounters the Harrison family and in particular one handsome twin, Dean. He doesn't believe Catherine is who she says she is but he can't deny the attraction he feels for her. Catherine doesn't know how to convince him she's innocent and only wants a sister. Dean however acts on his instincts while he sets out to woo Catherine.
Naked Games
is a brilliant story with an enthralling plot and wonderfully worked characters. Nothing is over rated and the twists and turns work well through the development of the story. The intimacy isn't over done and is believable between Catherine and Dean, as well as their banter. I think Anne Rainey is a talented author and her recent release proves this.
I would highly recommend this read.
--
**Disclaimer: This book has been provided to Coffee Beans & Love Scenes ("CBLS") Reviews free of charge by the author in exchange for an honest review of this title. No money has been exchanged for this review. This review reflects the opinion of the individual reviewer and does not necessarily reflect the opinion of any other CBLS reviewer or this blog's owner, editor or administrator.